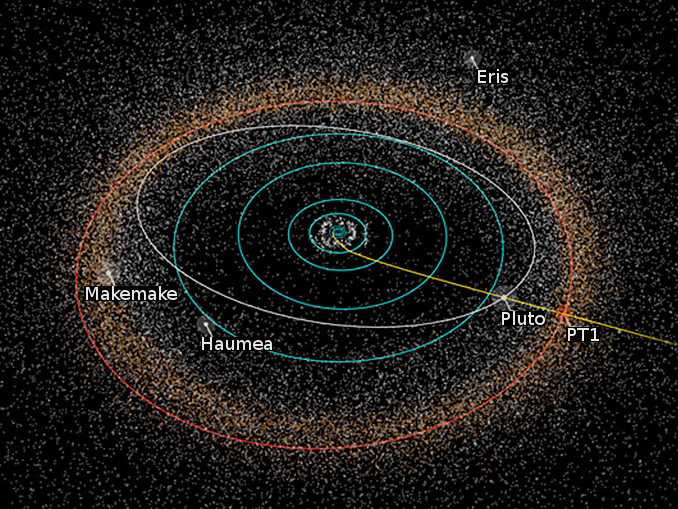 Following approval for any mission extension, this is actually the road to NASA's New Horizons spacecraft toward its next target, the Kuiper Belt object 2014 MU69, initially nicknamed "PT1" (for "Potential Target 1") through the New Horizons team. Image credits: NASA/JHUAPL/SwRI/Alex Parker.Following its historic first-ever flyby of Pluto, NASA's New Horizons mission has gotten the eco-friendly light to fly forward for an object much deeper within the Kuiper Belt, referred to as 2014 MU69. The spacecraft's planned rendezvous using the ancient object — one among the first foundations from the solar system — is 1 January 2019.
Based on the 2016 Planetary Mission Senior Review Panel report, NASA now directed nine extended missions to organize for ongoing procedures through fiscal years 2017 and 2018. Final choices on mission extensions are determined by the end result from the annual budget process.
"The New Horizons pursuit to Pluto exceeded our anticipations as well as today the information in the spacecraft still surprise," stated NASA's Director of Planetary Science Jim Eco-friendly. "We're excited to carry on forward in to the dark deep outer solar system to some science target that wasn't even discovered once the spacecraft released."
Additionally towards the extension from the New Horizons mission, NASA figured that the Beginning spacecraft should stay at the dwarf planet Ceres, instead of altering course towards the primary belt asteroid Adeona.
Eco-friendly noted that NASA depends on the scientific assessment through the Senior Review Panel for making its decision which extended mission choice to approve. "The lengthy-term monitoring of Ceres, particularly because it will get nearer to perihelion — negligence its orbit using the least distance towards the Sun — can provide higher science breakthroughs than the usual flyby of Adeona," he stated.