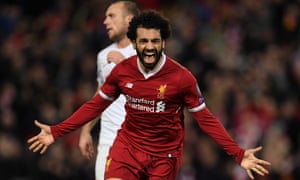 Mohamed Salah has been an instant success at Liverpool since joining last summer.
Photograph: Paul Ellis/AFP/Getty Images

Liverpool's Mohamed Salah wins African footballer of the year

• Liverpool and Egypt forward Salah wins prize for first time

• Sadio Mané was second with Pierre-Emerick Aubameyang third
Mohamed Salah won African Player of the Year, a reward for success on all fronts in 2017 for the Egypt forward after he inspired his country to a long-awaited World Cup place and had a phenomenal start to his spell at Liverpool.
He scored five goals in six games in the decisive qualifying round as Egypt sealed their place at the World Cup in Russia. Salah scored both goals, including the injury-time winner, in the 2-1 win over Congo in October that sealed Egypt's place in Russia.
Salah's victory capped a clean sweep of the three main African football awards for Egypt. They won team of the year and their manager, Héctor Cúper, Africa's coach of the year.
Although Egypt lost in the Africa Cup of Nations final to Cameroon, the team were back in the tournament after seven years without qualifying. Salah was a pivotal part of the revival.
He has had a stunning first half of the season at Liverpool with 17 goals in 21 league games and 23 in 29 in all competitions, justifying Liverpool's decision to break the club's transfer record and pay £36.9m to buy him from Roma in the summer.