Paris
Updated:
save

Since its birth in 1919, the Citroën brand has stood out for its innovative designs and technological solutions, which led to vehicles like the 2CV, capable of carrying a basket of eggs cross-country without breaking, even the most technological DS, going through its current suspension with pneumatic stops with «flying carpet effect». But this time the French firm has gone much further. So much so that his latest creation, far from calling it "car" or "vehicle," they call it "disruptive object".
The Ami is a quadricyl (depending on the approval in each country) 100% electric, with capacity for two passengers, with 70 kilometers of autonomy and with a maximum speed of 45 km / h.
Recharging your 5.5 kWh lithium-ion battery, located flat under the floor, is easily done thanks to the electric cable located next to the door on the passenger side. Once the cable is connected, 3 hours are enough for a full recharge in a conventional 220V outlet. A cable that by the way, is "rolled up" by hand before storing it, and looks the same as an iron or vacuum cleaner. That is connects to any normal plug and current of those we have at home, without any additional installation.
But beyond these figures, which can be scarce if we talk about a conventional vehicle, the Ami is a mobility concept, accessible from 16 years in Spain, since you can drive without a license, and with dimensions, size and design that make it an element with which to travel and cross the city in an ecological way.
Data sheet
Motor:

8 hp electric. lithium-ion battery with 5.5 kWh

Dimensions (length / width / height) in meters:

2.41 / 1.39 / 1.52

Autonomy:

70 km

Maximum speed:

45 km / h

Price:

6,900 euros (in France)
This curious "object" offers ultra-compact dimensions. Solid on its wheels of 14 '' of specific design located in the four ends to facilitate the maneuverability, It measures 2.41 m in length, 1.39 m in width and 1.52 m in height. Thanks to its small exterior volume, the Ani is easier to park than the small traditional urban models. A detail that attracts attention are its doors, since that of the driver opens backwards, and that of the passenger in a normal way. This is because, to save manufacturing costs, a single door has been designed, so, depending on the side of the car on which it is placed, the position of the hinges is what determines how it opens.
Inside, the passenger's seat is located a few centimeters behind the driver. This makes it easier for the passenger's feet to accommodate a small suitcase or shopping bag.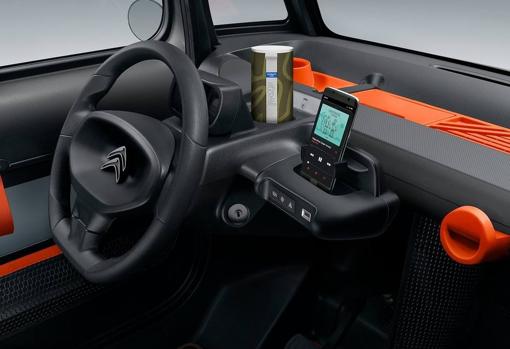 In the car design, inherited from the Ami concept presented last year at the Frankfurt Motor Show, glazed surfaces abound, so pee to the small size, once inside it dominates the feeling of space.
As a nod to the history of the brand Citroën, the side windows open tilting vertically upwards as in the 2 CV.
The body of plastic material, is available in a single color «Blue Ami», although it can be customized with 7 different configurations and elements such as tires, stickers, or even a spoiler.
With this Citroën experience it has been proposed to make electric mobility accessible. For this, the price of Ami will be less than 7,000 euros. In the case of France, where the rates are already official, and with the € 900 discount offered by the government for electric cars, It can be purchased from € 6,000. But due to its characteristics, the Ami will also be available through the "carsharing" service from € 0.26 / minute, or by long-term rental for € 19.99 / month.
.