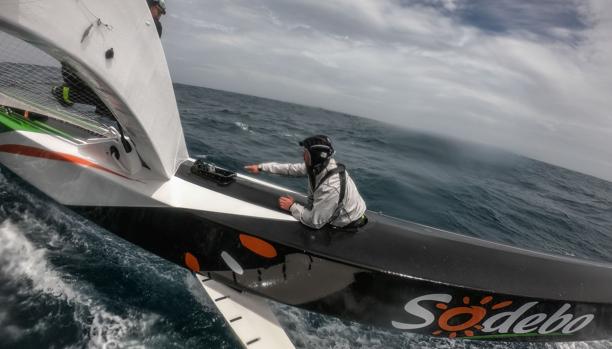 Third serious breakdown between the Ultim 32/23 that competes in the Brest Atlantiques, this time the affected one is the "Sodebo Ultim 3" (Thomas Coville – Jean-Luc Nélias) that has damaged the starboard float rudder housing and the this shovel.
The ground crew of this trimaran will travel to Cape Town to try to repair the fault, nothing easy for the damage will go further during the 1,150 miles it has to the South African port. In the video images sent from aboard the "Sodebo Ultim 3" you can see how the rudder is hitting the float, and it is not known if it will detach itself from the hull getting lost in the ocean or can be recovered in the case of have a preinstalled rig.
"We had been sailing in a difficult sea for five days. Last night I was starting to accelerate strongly towards the island of Gough. We had a very big crash with something very heavy that hit the starboard helm. I had to go inside the float to see the We will go to Cape Town and see what happens next, there is bitterness, this is the first race of the "Sodebo Ultim 3" and it arrives at the worst possible time, we are in a hostile place, the sea is rough. towards Cape Town it was at the end of the road and we were delighted with Jean-Luc to accelerate and show the ship's capabilities. We didn't want to break anything "; said Thomas Coville.
Wanting and not being able is many times the Achilles heel in ocean navigation, and as Thomas Coville explained this breakdown comes to them at the worst moment of the Brest Atlantiques when they would have 5,703 miles on arrival from Robben Island, which marks the beginning from the ascent across the Atlantic Ocean to Brest.
«Gypsy 17» and «Macif» do not slow down, Franck Cammas and Charles Caudrelier has increased the speed of the Trimaran Maxi Edmond de Rothschild shining south, to the area of ​​exclusion of ice, raising the ship's speed to 33, 7 knots to take full advantage of the high pressure winds that will take you to Robben Island. In that same commitment of maximum speed and not entering the exclusion zone, François Gabart and Gwénolé Gahinet navigate aboard the Macif.
The data of the polar of the Ultim 32/23 trace a long curve from the roaring forties to Cape Town. Leaving this route north is sailing slower, heading south is limited by ice. The two crews (Franck Cammas – Charles Caudrelier and François Gabart – Gwénolé Gahinet) accumulate experience to go zigzagging to Robben Island.
Yves Le Blevec and Alex Pella know that their trimaran «Actual Leader» is not the most of the four Ultim 32/23 competing in the Brest Atlantiques. But as Alex Pella said, they have a chance of achieving a good result. For now, according to the position data at 08:00 hours today (November 19, 2019) they are 276 miles from the leader, about ten hours from «Gypsy 17» when there is still a lot of racing to sail. . (tagsToTranslate) may (t) follow (t) regatta (t) sodebo (t) ultim