"Sisi" is a story based on real events about the turbulent life twists of the iconic last Austro-Hungarian Empress Elizabeth or Sisi. Elizabeth falls madly in love with the Austrian Emperor Franz Joseph I, but soon after the two get married, she realizes that life in Vienna is not what she had hoped for. At the heart of this six-hour adventure will be Sisi, perhaps Europe's most beautiful women, fighting for her ideals and freedom against the existing power and cruel regime. Emperor Elizabeth is entrusted to portray the rising Swiss-American star Dominique Devenport, her ally Francis Joseph I will be embodied by German actor Jannik Schümann, and Sisi is directed by Sven Bohse.
Professionals from Germany, Lithuania and Latvia cooperate in filming in the Baltics and Bavaria. The international team consists of about 200 people, most of whom are masters from Latvia. At least 150 people work on the filming site every day, the number of mass viewers tends to reach up to 200 people in one day. Horses and riders from Latvia and abroad regularly take part in the filming, and historical carriages have been brought back from Poland. Professional choreographers, surgeons, historians, Hungarian teachers and others who consult and monitor artists' skills in speaking, amputating members, dancing or shooting according to the century are involved in unmistakably portraying 19th-century life in all its glory. There are two stunt teams from Latvia and Germany on the square, supervising and participating in battles on the battlefield or in battles on the city streets, as well as making sure that no one is injured during the execution. For the needs of filming, several hundred 19th century costumes have been created by Latvian masters, which reflect life from the farmstead to the palace of the rulers.
Director Sven Bohse says about Latvia: "It is a great pleasure to work in such a fantastic climate with such sincere and wide-minded people. The successful cooperation between Latvian and German film professionals has allowed us to do a very large amount of work at a fantastic pace – everything necessary from dresses to bedrooms was created to make this project possible. "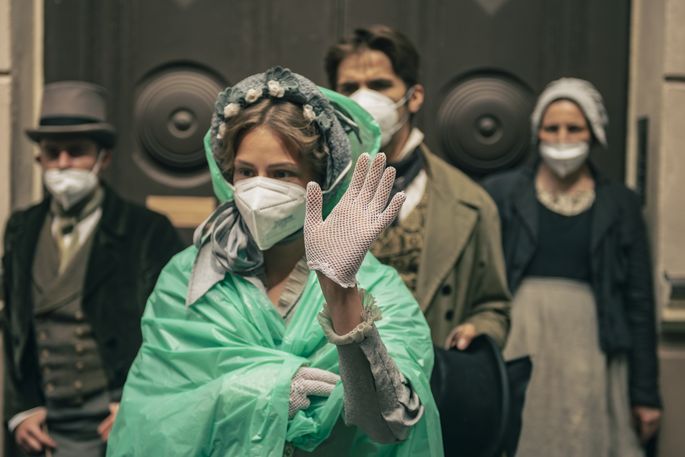 "Where else in the world, if not in Latvia, can you find the necessary architecture and landscapes to film everything from a medieval village to Cold War spy games? Latvia fits the portrait of Austro-Hungary even too well, only the mountains are missing. "
Cinevilla Films representative Andrejs Ēķis reminds:
This is the first time in Latvia that a project of this scale, such as Sisi, has been completed. And in the case of the right tax policy, this project could bring 6 million into the Latvian economy, while in the current system it has brought only 3 million.
It is important to remember that cinema is not just a culture, but, above all, an industry – a profitable industry. Any film project allows not only a narrow, industry-related group of people to earn money, but also a wide range of service providers – caterers, hotel chains, artisans, transport providers – and this list could go on and on. At the national government level, it would be important to understand that cinema can heat the economy. "
.