A corona survey by the RIVM at the end of November also shows that there is a lot of doubt. Nearly half of parents of children under 12 are 'probably or certainly willing' to have their children vaccinated. The parents are especially concerned that the vaccine could have long-term consequences for their children.
Completely safe
To arrive at a good choice, it is useful to start with what we already know about the group of children aged 5 to 11 years. The European Medicines Agency (EMA) previously concluded that two smaller-dose injections of Pfizer/BioNTech are completely safe for children aged five to eleven.
This group can therefore be pricked from the end of this month. Parents will receive a letter between Tuesday 18 and Saturday 22 January stating that they can make an appointment by telephone. In total, 1.3 million children are eligible for the child dose of the corona vaccine.
Read alsoHaving your child vaccinated against corona: no national advice, but your own choice
Do not vaccinate
One reason not to have your child vaccinated is, for example, because they themselves hardly get sick after being infected with the virus. The course of the disease is often mild in healthy children, sometimes even imperceptible. For example, there are children who have had corona without their parents knowing.
Do vaccinate
Then the reasons to have your child vaccinated. Pediatrician Martine de Vries points out the social importance: "Small children may not often become seriously ill, but they can infect other people. With that, they can partly maintain the epidemic."
Pediatrician Károly Illy (involved in the OMT) can imagine that there are circumstances that make children and their parents want the jab. "Because there is a vulnerable family member, or because grandparents play a role in the care and upbringing of the grandchildren. The vaccine has been determined to be safe for children."
Health Council
The Health Council's main argument is that vaccination can prevent a small group of children from becoming seriously ill. The Health Council mentions the prevention of sports, school and social contacts being lost after an infection as an indirect benefit for the children. After all, this can lead to poorer health and social-emotional development and learning disabilities.
Whatever choice you make as a parent for your child: whether or not you opt for the corona vaccination should not have any consequences for the children, according to the doctors involved and the cabinet.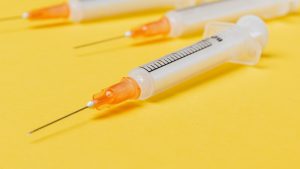 Read alsoVaccinating children against the flu to relieve care? Unethical, panel finds