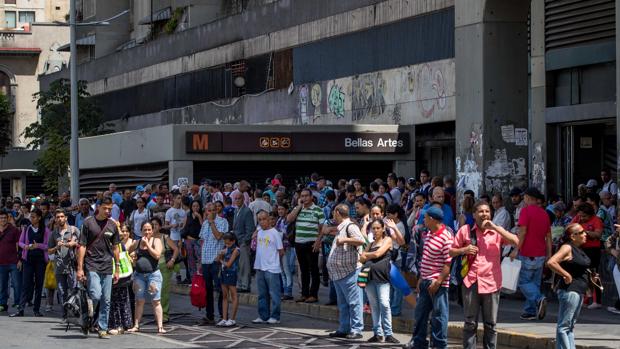 A new interruption of the electric current has left most of Venezuela without light this Monday since 16.40 local time (20.40 GMT) without the state-owned Corpoelec, which controls the service throughout the country, has informed about it.
At least a dozen of the 24 federal entities in the country have been affected by this fault, common in some regions, while in Caracas Efe was able to verify that the Metro service was suspended so thousands of users have been forced to walk .
Hundreds of reports on the blackout circulating in social networks and local media number 16 states that, from the four cardinal points, have been left in the dark.
This new interruption of the current has brought telephone problems, especially from one region to another, and failures in the internet connection in a country where almost all of them depend on a state-owned provider as well.
The last major blackout that affected Caracas was recorded on April 10. However, service interruptions occur daily in states such as Trujillo (west) and Zulia (bordering Colombia).
Last March Venezuela accumulated eleven days in the dark after two huge blackouts that paralyzed the country and for which the Government of Nicolás Maduro held the local opposition and the US administration of Donald Trump responsible.
To solve these problems, the Chavista Executive launched an electric rationing for almost two months that left 20 of the 24 federal entities without power 20 hours a week.
The Government also formed a General Staff to address the crisis, and announced the modernization and restructuring of Corpoelec.
The opposition, meanwhile, ensures that corruption in the Ministry of Electricity and mismanagement of billions of dollars allocated to the sector are responsible for the current crisis. . (tagsToTranslate) apagon (t) venezuela