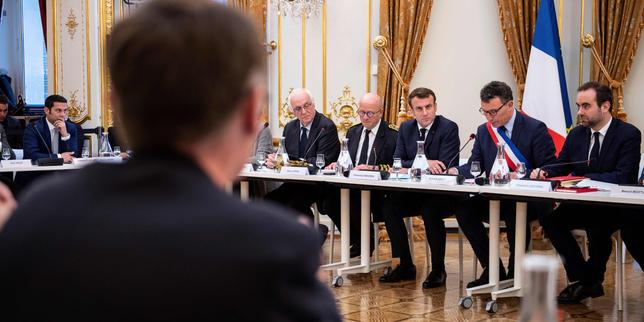 The Head of State will speak Tuesday, November 19 at the Congress of Mayors of France.
As every year, the Parc des Expositions of Paris is preparing to host, from November 19 to 21, the Mayors' Congress of France, with the preamble, Monday, 18, the meeting of the elected representatives of overseas which is held at the Mutuality . But this 102e Congress of the Association of Mayors of France (AMF) has a special flavor. Because it will be the last one before the next municipal elections of March 2020, in a shady political landscape. And because, since the accession of Emmanuel Macron at the Elysée, relations between the executive and local elected officials have gone through turbulent times, until the crisis of "yellow vests", revealing the territorial divorce , replace the mayors "In the heart of the Republic", as claimed by the slogan chosen this year by the AMF.
Article reserved for our subscribers

Read also
The Association of Mayors, political springboard for François Baroin
"The Congress of Mayors is the Republic that meets for three days", likes to say François Baroin, president of the AMF and mayor (The Republicans) of Troyes. It is also an eminently political exercise. This is evidenced by the presence, on Tuesday, of the President of the Republic and, on the closing day, by the Prime Minister. By 2018, Mr. Macron was deadlocked and he was criticized for it. Having committed a year earlier to come every year, he will not make the same mistake twice. Especially as he estimates, having spent nearly a hundred hours in meetings with local elected officials during the great national debate, to have corrected the image that some wanted to forge him of a president "above ground", uprooted and cut territories. "We share the Republic"defends Mr. Macron, anxious to reconnect the thread a distended time of this republican narrative with the mayors, these "Pillars of the Republic".
At the forefront of the friction issues is the abolition of the housing tax, which the AMF considers as "A big mistake".
This congress must, in his eyes, close a hazardous chapter, that of misunderstanding, and open another, that of a "Republican companionship" and mutual recognition. Nevertheless, friction remains, even if the political climate in local elected officials is improving. The government has noted without displeasure that, according to the survey AMF-Cevipof published Thursday in Le Monde, 60% of mayors believe that the financial situation of their municipality has improved since the beginning of their term, against 45% one year earlier. A sign, it is estimated by the ministry in charge of territories, that the speech maintained by the leaders of the AMF on the "Continuing decline in means" find less of a hold on their members.