The The International Space Station (ISS) received SpaceX's Endurance spacecraft on Thursday. The Crew-3 mission arrived with three astronauts from the US agency NASA and one from the European European Space Agency (ESA). The crew members arrive to fulfill a six-month scientific mission.
The ship was anchored to the ISS about 21 hours after takeoff from the Kennedy Space Center at Cape Canaveral in Florida. On the trip, Kayla Barron, Raja Chari and Tom Marshburn from the US agency and the German Matthias Maurer from ESA were transferred.
NASA live broadcast Endurance's arrival at the station and the travelers of the capsule could be seen celebrating their arrival. The mission is the third to arrive with astronauts from various agencies on SpaceX rockets. All the trips of that company depart from the USA.
The four astronauts of Crew-3 will fill the positions left by the Crew-2 crew. That mission returned to Earth last Monday, after serving six months in space aboard the ISS. The new group of travelers has Chari as their mission commander.
NBC News He indicated that the Endurance rider was Marshburn and that Barron with Maurer are the specialists. Only Tom Marshburn had experience in previous trips outside of our planet. NASA indicated that the German astronaut is the 600th person to have traveled to space.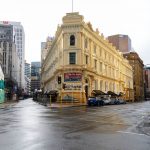 Amazing view of the #CrewDragon vehicle as it makes it's way towards station! #LaunchAmerica | https://t.co/cBNqC5JGaz pic.twitter.com/TJHhY0gEqt

— International Space Station (@Space_Station) November 11, 2021
.