Galeria Karstadt Kaufhof in Essen saved after a long discussion
The meeting lasted over seven hours. A result was actually expected by noon. But the creditors did not make the decision easy for themselves. A lot of money is at stake for them. You are now giving up a total of 2.2 billion euros. The restructuring plan had been fighting for months, it also means that almost 6,000 jobs and 50 branches of the group will close.
Kaufhof on Willy-Brandt-Platz and Karstadt Sports in Limbecker Platz in Essen are also affected. They will close in October. The Karstadt branch in Limbecker Platz was only saved after renegotiating the rent. The Verdi union had also advised approving the restructuring plan. Losing the 5,900 jobs is better than losing them all, a spokesman told our Radio Essen city reporter before the meeting.
Creditors' meeting Galeria Karstadt-Kaufhof to decide on the future at Messe Essen.
© Radio Essen / Kostas Mitsalis
Essen: Creditors of Galeria Karstadt Kaufhof forego a lot of money
With the decision to approve the restructuring plan, the creditors waived a large part of their claims. In total, it is a sum of over 2 billion euros. In addition, the creditors blessed the downsizing and the branch closings. Around 50 branches will close nationwide. Jobs are also being saved at the corporate headquarters in Schuir on the Bredeney border. In contrast, the focus is on logistics in Vogelheim.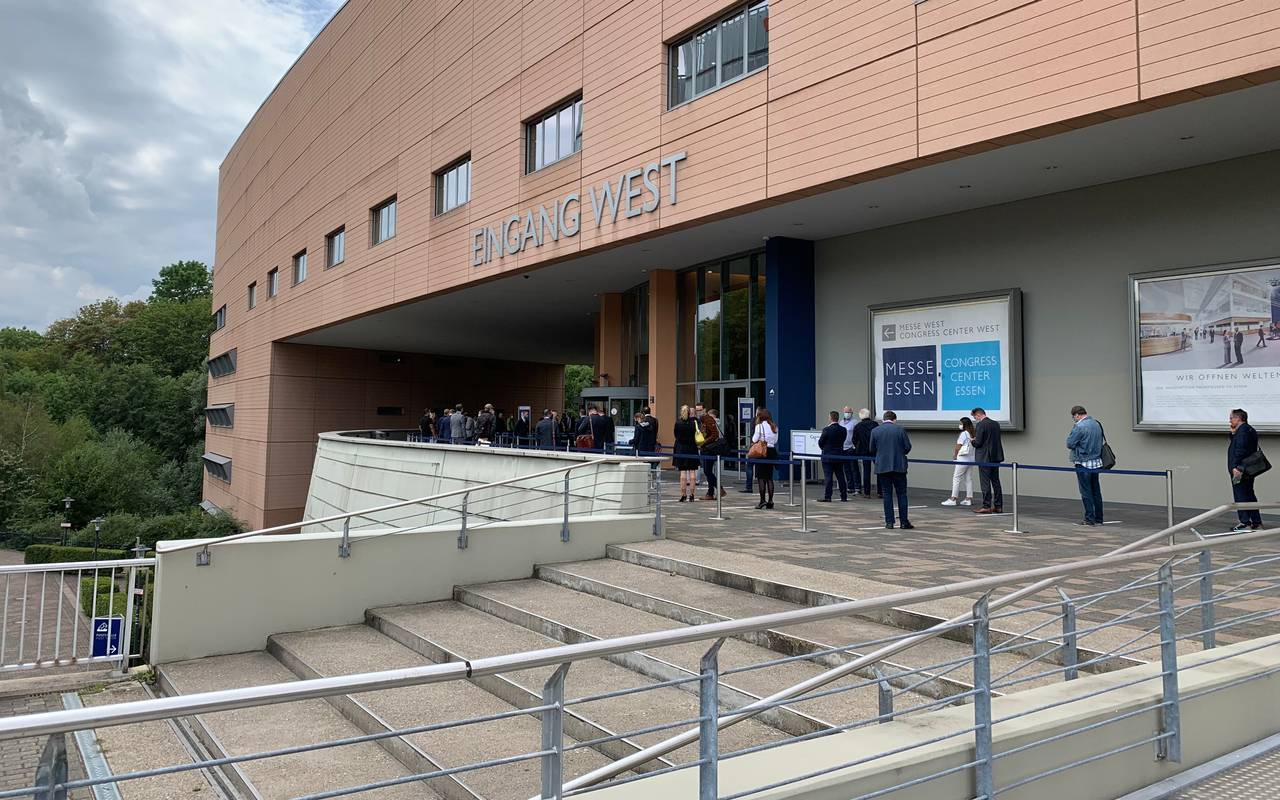 Creditors from Galeria Karstadt-Kaufhof before the decision on the future before Messe Essen.
© Radio Essen / Kostas Mitsalis
Creditors' meeting in the largest exhibition hall in Essen
The Essen district court had rented the largest exhibition hall for the creditors' meeting under corona conditions. This is Hall 3. The meeting was not open to the public. Our Radio Essen city reporter was there. In 2009 there was a similarly large creditors' meeting in Essen. That was the one for Arcandor, the Karstadt mother at the time. The Grugahalle was used for this at the time.
More news from Essen
.