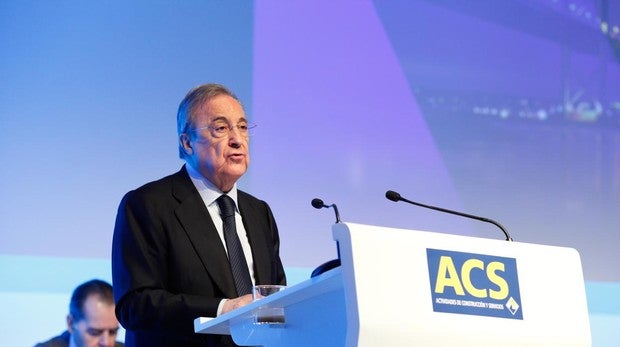 The president of ACS and Real Madrid, Florentino Pérez, has decided to appear as a private prosecutor in the procedure opened at the National Court in relation to the alleged hiring of former commissioner José Villarejo by Iberdrola for espionage.
In a brief statement, ACS has informed that the employer has made this decision after El Confidencial and moncloa.com have published that Iberdrola hired Villarejo to blackmail him and curb the intention of the construction company to be on the board of directors of the electric
The objective, he adds, is to be able to exercise criminal and civil actions against those who are responsible for such acts, «among which the President of Iberdrola and the people of his environment who participated may be included, depending on the content of said information, Commissioner Villarejo himself and the media that may have been instrumental in this criminal activity ».
According to the aforementioned publications, Iberdrola hired Villarejo in 2009 to prevent ACS from taking control of the company. Florentino Pérez's group came to control up to 20.2% of the capital of the electricity company, which prevented it from entering its board of directors claiming they were competitors.
At the end of October, the judge of the National Court that investigates the ex-commissioner, Manuel García Castellón, opened a secret piece within the case to investigate his alleged hiring by Iberdrola.
«New and exhaustive»
The opening of the piece came after it was published that Iberdrola hired Villarejo to spy on a judge, infiltrate platforms contrary to the interests of the power company, harass members of the company committee of the Cofrentes nuclear power plant or investigate a critical shareholder with the management of the company.
Iberdrola acknowledged that two internal investigations, opened in November 2018 and another in July 2019, concluded that Villarejo had been hired between 2004 and 2017 for 17 services of ordinary type and those of the Corporate Security Directorate.
In addition, they concluded, according to Iberdrola, that all internal controls and procedures of Iberdrola, chaired by Ignacio Sánchez Galán, had been correctly applied in the process of hiring and subsequent payment of said works.
In mid-October, the energy company announced that it had decided to open a "new and exhaustive" internal investigation to try to clarify the veracity of the latest information published on Villarejo and if the company's code of ethics had been breached. .