Ilustrasi Google Maps. (Unsplash/henry perks)
Hitekno.com – A group of tourists from Germany was targeted by Google Maps. The car being ridden got stuck in a rice field area in India.
Tourists who intend to vacation by car follow directions from Google Maps, instead stray onto dirt roads that local people don't want to cross by vehicle.
Reported from Cartoq, a tourist from Germany got lost and entered a rice field area in Uttarakhand, India.
His car, the Hyundai Grand i10, couldn't do much when it was stuck in a rice field area. This is because the tires skid due to muddy roads.
The tourist is known to be heading to Udaipur from Menar via the 6-lane Navania highway.
He uses Google Maps navigation assistance to get there. When he was directed there, he didn't realize that the road he was taking was an alternative route that could be taken in a short time.
But on the way, something strange happened. He met a very slippery road.
Car tires can not grip the road so the car skidded and broke down. It turned out that the road he was on was a muddy road in the middle of a rice field area.
The road is known to be used only by farmers. Even farmers do not use the road when it rains because it is very dangerous. Worse, the tractor can get stuck on the road.
The car then asked for help to be able to evacuate his car which was stuck in the mud.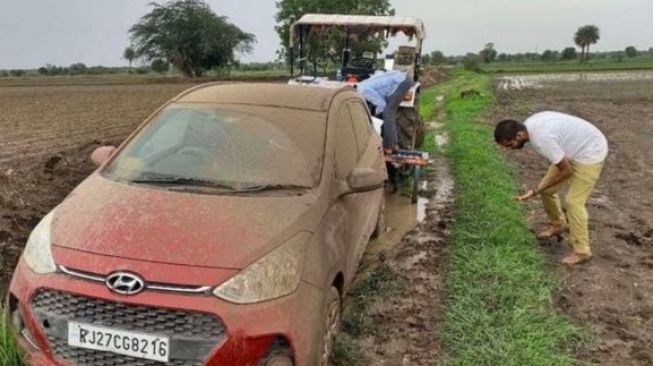 Finally a tractor was deployed to tow his car to be evacuated by pulling it.
The incident of getting lost using Google Maps is indeed still common in several countries, including Indonesia itself.
Except for tourists from Germany who stray into rice fields in India thanks to Google Maps. (Suara.com/ Gagah Radhitya Widiaseno).
.