These demonstrations, which took place in dozens of cities, come after the media coverage of rape cases and an increase in the number of women killed by their partners.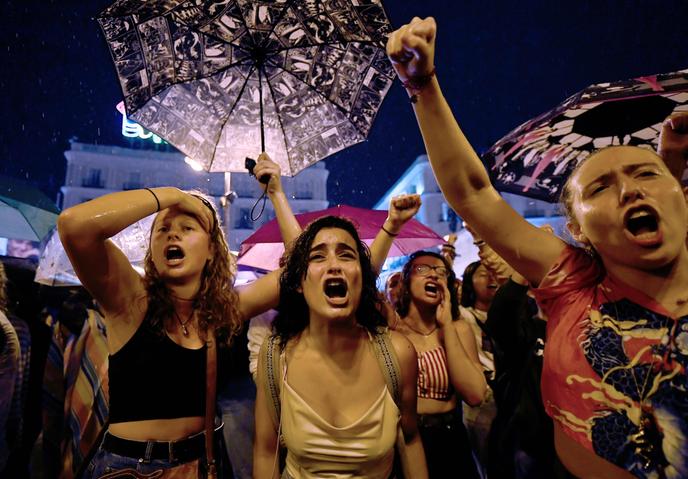 "They kill us", "There is no justification", "Women's lives matter" These are some of the slogans brandished during the demonstrations that took place on Friday, September 20, in Madrid and in dozens of other cities in Spain. These rallies aim to denounce violence against women and call for more measures to combat this scourge.
Braving the rain and thunderstorm, thousands of protesters, mostly women, gathered in Madrid's Puerta del Sol square on the initiative of women's rights groups. Similar rallies were held in cities such as San Sebastian in the north, or Seville in the south-west or the Canary Islands.
These protests come after several rape cases that caused a stir and an increase in the number of women killed by their partners or ex-partners. "This summer has been barbaric, with figures on violence (against women) terrifying for a state that benefits from pioneering laws in this area "Covadonga Peremarch, spokesperson for the organizers of the events, Feminist Emergency, told Cadena Ser Radio.
Read also
The one billion euros unlocked by Spain against feminicides is it a "myth"?
A law adopted in 2004
The Spanish Parliament unanimously adopted in 2004 the first law in Europe against violence against women, providing for free legal assistance and special courts for victims. At the end of 2017, MEPs unanimously adopted other measures aimed at strengthening the initial law.
Article reserved for our subscribers

Read also
Spain, a pioneer in the fight against violence against women
In spite of these legislative provisions, 1,017 women have been killed in Spain by their partners or ex-partners since the beginning of the official census of these murders, in 2003. Since the beginning of the year, forty-two women have been killed in the country during domestic violence, including nineteen during the summer, according to figures from the Ministry of the Interior.