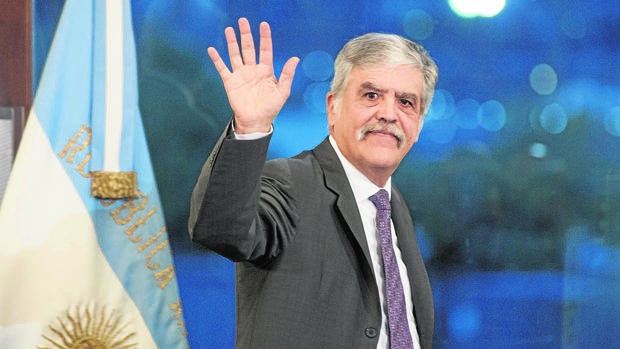 An electronic ankle brace will remind you of the 24 hours that you are still a man deprived of liberty but, at least, you can move in his "small farm" (small farm) in Zarate, located in the province of Buenos Aires. Julio de Vido, the former Minister of Planning during the Governments of Néstor and Cristina Kirchner (2003-2015) was released from prison but could soon return to his cell if the series of trials pending is accelerated. All, linked to public works, the bottomless pit of the Kirchnerist latrocinio.
De Vido was released in the context of the cause known as "the notebooks of the coimas" (bribes) written by a chauffeur by Roberto Baratta (his right hand) that left pointed, with great detail, the names and deliveries of the Bites of entrepreneurs. Many of these subsequently repented and acknowledged the facts.
The former super minister who accompanied Cristina and Nestor Kirchner from his stage in the Governorate of Santa Cruz (in the 90s) came out with a speech full of innocence and attack against the judges. In the style of his ex-former and current vice president, he assigned all his ills (crimes) to political motives and rammed against the Government of Mauricio Macri whom he described, without a hint of modesty, of being "the most corrupt in history."
For 780 days De Vido remained behind bars. The Federal Oral Court that understands that case gave him the Christmas gift in advance by order of the Court of Cassation, the highest judicial instance. The judicial process is prolonged and the judges considered that the preventive detention exceeded the acceptable limits. Something similar happened with Baratta who also went from being behind bars to a situation of house arrest with the corresponding electronic ankle brace.
Julio de Vido was the first heavyweight to lose his privileges in Congress. In October 2017, it was delivered to the Federal Courts of Comodoro Py. At that time he was being judged by the railway tragedy of Once, in allusion to the neighborhood where a train ended up derailed after crashing into a platform. 52 people died. For this reason, by fraudulent administration, he was sentenced to 5 years and 8 months in prison. In prison he was prosecuted, in addition to the Cuadernos de las Coimas, for other causes linked to Odebrech, the purchase of "scrap trains" (would affect Spain) and half a dozen more.
In his first radio statements to Eduardo Valdés, current deputy and former ambassador of Cristina Kirchner in the Vatican, he demanded "disarticulate the instructions of Stornelli (Carlos)", the prosecutor who investigates those of Judge "Bonadío (Claudio)" and those of the Prosecutor Gerardo «Pollicita». He relied on Alberto Fernández's speech where he attacked Justice and announced a comprehensive reform. Thus he demanded: «You must point to the absolute nullity of the instructions of the cases. If not, we do not solve the problem and the President's words will fall in a broken sack ». . (tagsToTranslate) argentina (t) minister (t) free