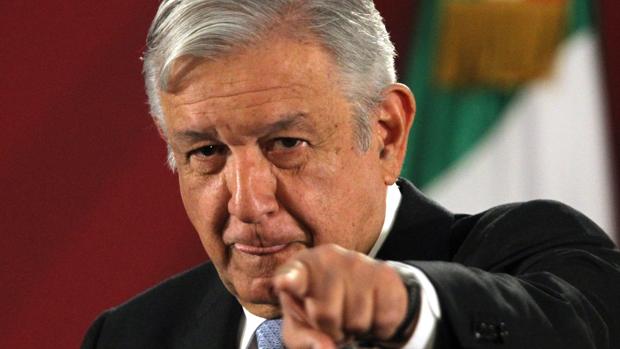 The president of Mexico, Andrés Manuel López Obrador, said Tuesday that the conqueror Hernán Cortés committed the "first fraud" of Mexican history and attributed the first cases of corruption in the country to Spanish soldiers.
«As soon as he landed in Veracruz, the conqueror Hernán Cortés, without any legal basis, became mayor. It was the first fraud, "López Obrador said at a press conference paraphrasing his new book," Towards a moral economy, "in which he reviews corruption in Mexico.
Also, based on the chronicles of the conqueror Bernal Díaz del Castillo, López Obrador said that a third of the treasure of Mexican Emperor Moctezuma II disappeared in the hands of Spanish captains.
"The distribution of Moctezuma's treasure was irregularly verified because before the distribution, I quote Bernal verbatim, the third part of it was missing, which was taken and hidden by the part of Cortes and the captains," he said.
López Obrador noted that Cortes "separated the fifth real and gave himself another fifth" and called these episodes "initial moches," as corruption is popularly known.
During the New Spain colony "there are other similar cases", said López Obrador, something that "continues" after the independence of Mexico in 1821.
Under the dictatorship of the military Porfirio Díaz (1884-1911) "corruption prevailed" in the railroad concessions, something that was an "antecedent" for what López Obrador calls the "neoliberal period", initiated 36 years ago with the presidency of Miguel of the Madrid.
During these previous governments, López Obrador said, the Spanish companies Repsol and OHL were some of the "favorite companies that always won the works."
«(Corruption) is the main problem we are facing because it is what has most damaged Mexico. In Mexico, what was needed was to banish corruption and the neoliberal model was inherent to corruption, "said the leader of the leftist who took office on December 1, 2018.
Last March, López Obrador caused a cooling in relations with Spain when he asked by letter to King Felipe VI and Pope Francis to apologize for the abuses of the conquest.
A petition that he reiterated on November 8, when 500 years of the first meeting between Moctezuma II and Cortés in Tenochtitlan were fulfilled.
According to the president, this request "is no offense" but a process of reconciliation so that Mexico and Spain see "towards the future as brothers".
In addition, López Obrador has also pledged to apologize to the indigenous peoples for the abuses committed by the Mexican State after the independence of the country. . (tagsToTranslate) lopez (t) workshop (t) hernan (t) cuts