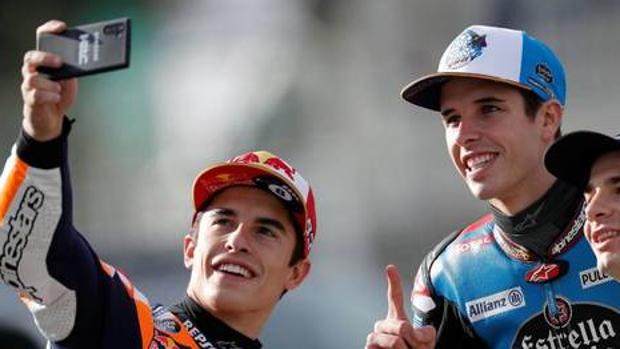 Repsol Honda made it official yesterday that the Márquez brothers will share a garage next season. After Jorge Lorenzo's bad year, which culminated in the announcement of his retirement, the team will join the current MotoGP and Moto2 champion. An unprecedented situation in the premier category that Marc has said.
In an interview for the portal «Motogp.com», the eldest of the Márquez has confessed his joy to coincide with his brother, although he added a but: «Obviously it is a dream come true for our family. On the one hand I am proud and it is an incredible feat, but on the other, being honest, I would prefer that my brother be in another box because he will have a lot of pressure. People are like that and they compare you with your partner ».
And it is that the MotoGP champion has the trajectory he has for his competitive nature, the same that will make him see Alex as another opponent on the asphalt: «My next teammate will be the Moto2 world champion and yes, it is my brother. Obviously I am happy and proud of him. But it will be another rival, "he said, adding later:" In Valencia there was an unexpected situation, nor did Honda expect Lorenzo's withdrawal, and the Moto2 world champion became one of the options to replace Lorenzo. I didn't press for anything, neither Honda nor my brother, zero. He had to feel it. Honda simply asked me, and it is clear that I could not say no to my brother.
The pressure in MotoGP
Marc knows as few the pressure to which one is subjected in the queen category. In the rearview mirror is the example of Jorge Lorenzo, a two-time world champion who failed to adapt to his new team. «I hope Alex manages the pressure well. The pressure will be enormous for my brother, but he has to understand two things: that he is his first season in MotoGP and that he is the world champion of Moto2. In the end, many drivers do not want to come to HRC because they know that their partner will be fighting to win every weekend. But he is convinced and I respect him. It is his sports career. When HRC comes for you, you can't say 'no'. You have to try to enjoy your opportunity, give your one hundred percent to show your talent ».
All this, however, will not make the good relationship between the two disappear: «Of course I will give you some advice, but on the bike, on the track you are alone. I know that the Honda is the most difficult motorcycle for a newbie because of the engine and its structure. Either a Suzuki or a Yamaha are easier for one of Moto2 because the engine is different. Crutchlow, Lorenzo, Nakagami or Zarco suffered. But my goal is to win the title and for that I have to focus fully on my part of the box ». .