The thousand-kilometer car Nio ET7 was shown during the Nordic EV Summit in Lillestrøm this week. With that, Nio also confirms that the car will arrive in Norway and Germany during the fourth quarter of next year.
Although it is a year away, much is known about the donation. It is approaching the year since Nio launched it in China.
The ET7 is claimed to be a premium sedan for those who want powerful performance. Zero to one hundred goes away in 3.9 seconds, we are promised, thanks to four-wheel drive and total engine power of up to 480 kilowatts.
There are strong numbers for a car that is 5.1 meters long and 2 meters wide. In addition, a range of up to 1000 kilometers.
Then we get to mention that 1000 kilometers is after the old NEDC driving cycle according to which cars are still type approved in China. From experience, this probably means that we can deduct at least 30 percent. Not that it will give any less considerable range.
Three battery sizes
However, considerable reach tends to give a considerable selling price. However, it will be possible to buy the car with three battery sizes: 70, 100 and 150 kilowatt hours with a NEDC range of 500, 700 and 1000 kilometers respectively.
It will also provide at least three price levels, but in practice a number more. Nine allows customers to choose whether or not to buy the battery. Without a battery, the car is cheap, but you have to sign a contract where you rent a battery. Then you can also change the battery instead of charging, and upgrade it if you need bigger. If you choose to buy the car and the battery, that option is lost.
Marius Hayler, head of Nio in Norway, tells TU that he is looking forward to being able to offer a sedan packed with technical innovations next year.
Think sedan demand continues
Sedans have not always been the sales success they are now. This year's best-selling car is a sedan. The question is whether the Tesla Model 3 has sold well despite being a sedan.
Hayler is not worried about that.
– 10 years ago it might have been said that there is no market in Norway for sedans. But now we know that good colleagues also sell many electric sedans, so I definitely think there is a market for ET7 as well, he says.
– But do not you think that it is mostly about what is available from cars with long range?
– Yes, they have paved the way with sedans. At the same time, it has established itself. Before it was unusual, but now when you look at the cityscape there are many sedans, says Hayler.
Will utilize the window with ES8
We ask how he thinks sales will be split between ET7 and their first model, the large SUV ES8.
He believes that Nio has a unique window with an all-electric SUV of this size right now, and that they therefore have full focus on it.
– Then we look forward to ET7 coming to an extra segment.
Nio currently has four car models in its portfolio. In addition to the two we have already mentioned, they have medium-sized ES6 and EC6. We do not get Hayler to commit to delivering these to Norwegian customers, but he says that Nio has a strong product portfolio, which will come after 2023, and that they will offer cars in all segments.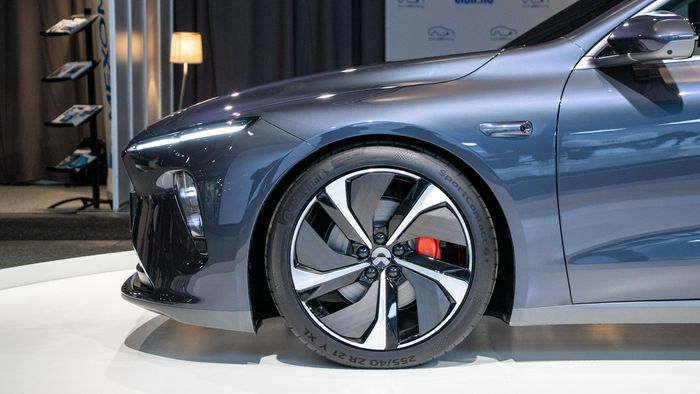 Most people choose to rent the battery
As for the car they already sell, Hayler says that they have a large demand in their store Nio House in Karl Johans gate in Oslo, and that they have sold a good number of cars.
It turns out that most people choose to buy the car without a battery, and instead rent a battery through Nio's "Battery as a Service" scheme (BaaS), where customers rent a battery via the Nio-owned company Instant Power. This costs 1400 or 2000 kroner a month, depending on the battery size, and provides access to a certain amount of energy in either battery change or fast charging every month.
– We had a small crystal ball and tried to make a forecast, but I can say that now we are at 96 percent have chosen BaaS. So almost everyone chooses it, says Hayler.
Hayler believes that an important reason for this is that it gives customers the opportunity to participate in battery development in the future.
– I think Norwegians really appreciate that, he says.
.