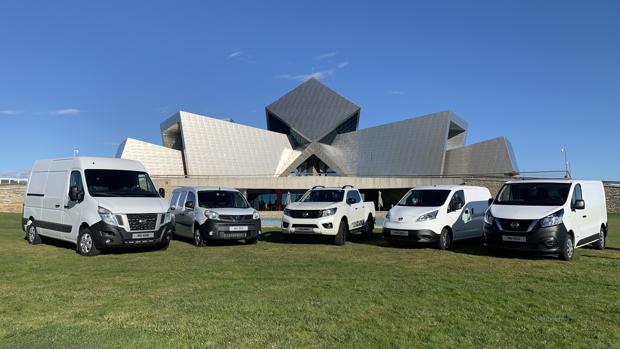 Under the premise of low utilization costs and high performance, whether with diesel or electric motor, Nissan updates its wide range of commercial vehicles. Moreover, from a hard pick-up to a compact van, a combi or a chassis-cabin, the Nissan range has offered for 82 years -1937 first truck version, the Nissan Truck Model 80- a wide variety of models, Created for all kinds of professional needs.
In terms of bodywork and load capacity, the Nissan range is designed to accommodate as many customers as possible, covering from the 650 kgs and 3m cubic of the NV250 to 1700 kgs and 17 cubic m of the NV400 chassis cab with body closed. In addition, the latest connectivity technology is also incorporated, making the use of Apple CarPlay and Android Auto not a private preserve of the most advanced cars.
e-NV200
The e-NV200 – manufactured in Barcelona for the whole world – equips a 109 hp engine and a 40 kWh battery, which gives it an autonomy of 275 kilometers (up to 301 in urban conditions with a single recharge, according to the WLTP cycle ). Since the battery size has not increased, customers of the e-NV200 will not lose space or load capacity, whether in a van body, combined 5 seats or Evalia version for 7 passengers.
The Nissan e-NV200 offers quiet driving, absent from vibrations, mechanical noises and gear changes. In addition, the electric motor, which generates instantaneous torque and smooth acceleration, guarantees stress-free journeys for drivers, as well as deliveries and pickups without disturbance to residents. On the other hand, the transmission of unique change and the system of start in slope facilitate the driving and make it safer.
NV250
The NV250 equips efficient diesel engines from 80 to 115 hp, with van or double cab versions, as well as several bodyworks. Which guarantees maximum practicality and functionality to users. In fact, it offers two body lengths (L1 / L2) and includes two seating configurations (2 or 3 in the cabin), while the double cabin version with a single length (L2) includes a maximum of 4 seats and a modular screen for Get a more versatile cargo space.
NV300 and NV400
For its part, the NV300 and NV400 have been updated with efficient engines, thrusters ranging from 95 to 180 hp, renovated interiors and connectivity options that guarantee the best user experience. At the same time, a new double clutch gearbox (DCT) has been incorporated that offers greater driving comfort thanks to a linear acceleration without interruptions and a much improved fuel consumption.
Technological improvements for both vans include Android Auto and Apple CarPlay to enjoy full integration with the smartphone. The 7-inch touch screen information and entertainment system also has a new interface that replicates the usual design of a smartphone and allows quick access to maps and audiovisual services.
In addition, the NV400 has new Nissan Smart Mobility safety features, including front parking assistant, blind spot control and side wind warning and involuntary lane change. The technological offer also includes rain sensor and automatic lights, rear parking assistant, rear camera and hill start assistant. As for the safety in the loading area, additional closures have been incorporated in the rear and side windows.
Navara
Finally, the Navara pick-up – manufactured in Barcelona for Europe and the Middle East -, with 163 and 190 hp engines, has been completely renovated. The journeys will be more comfortable thanks to the new six-speed manual transmission, the modified suspension improves the driving and comfort of the vehicle, while the front and rear disc brakes are included as standard to increase braking power. For its part, the revised suspension allows Navara to carry heavier loads, while thanks to Intelligent Trailer Sway Assist technology, towing has never been so easy.
The Navara is the ultimate versatile work tool, so its bi-turbo engine is offered with two powers of 163 hp and 190 hp. Also inside, the connection between the vehicle and the driver has been redefined thanks to the new NissanConnect system with Alliance In-Vehicle Connectivity (A-IVC) technology. The NissanConnect information and entertainment system has an impressive level of hardware and software that allows the user to use their phone in the vehicle system, thanks to a new 8 '' high resolution display (in the previous model it was 7 ' ') with multi-touch control and shorter response time.
The Navara also includes the NissanConnect Services application, which has a telematic control unit and an integrated 4G device that allows data sharing without the need for a separate telephone connection. The integrated TomTom Maps are combined with wireless updates to ensure accurate real-time mapping, along with real-time traffic information, 3D maps, weather information and Google Satellite and Street View. The application also includes horn and remote light control, as well as remote vehicle locator for peace of mind. The new system is combatible with Apple CarPlay and Android Auto, so it offers the total connectivity that consumers currently demand. . (tagsToTranslate) nissan (t) answer (t) professionals (t) wide (t) range