Jakarta
–
It is certain that Indonesia will finish below the order of 46 in the Tokyo 2020 Olympic medal standings. In ranking, this result is below the achievement of the Red and White contingent in Rio de Janeiro 2016.
Last August 2 was the last day the Indonesian contingent had a chance to win a medal, even though the Olympics only closed on August 8. The athletes have also returned to their homeland because they have completed their respective matches.
Indonesia closed its Olympics journey with 1 gold (badminton), 1 silver (weightlifting), and 3 bronze (2 weightlifting, 1 badminton). In terms of the number of medals, this result is better than in 2016, when 'only' got 1 gold (badminton) and two silver (weightlifting).
Greysia/Apriyani become gold medal contributors for Indonesia at the 2020 Tokyo Olympics. Photo: AP/Markus Schreiber
But in terms of ranking, Indonesia is still better in Rio de Janeiro than in Tokyo. In Brazil, Indonesia finished in 46th position. While in Japan, Merah Putih will finish below that position.
The Tokyo 2020 Olympic medal standings are not yet final. Indonesia is currently ranked 46th. But tomorrow that ranking will be displaced, at least by the Philippines.
The reason is, the Philippines will appear in the men's flying class boxing final on Saturday (7/8) tomorrow. They are represented by Carlo Paalam, who will face Galal Yafai (Great Britain).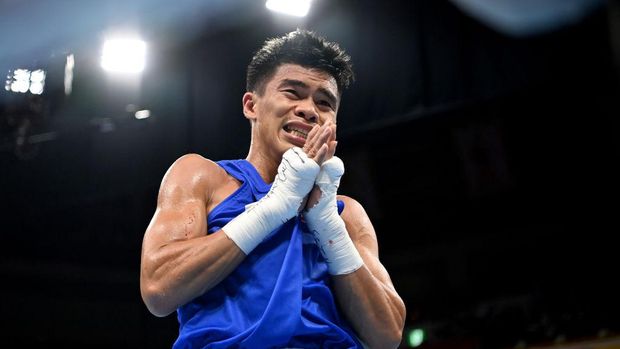 Carlo Paalam entered the men's boxing final at the Tokyo 2020 Olympics, securing an additional medal for the Philippines. Photo: Getty Images/Luis Robayo – Pool
Currently, the Philippines is at number 49, with 1 gold, 1 silver and 1 bronze. If Carlo loses, then the Philippines will collect 2 silvers, and will definitely overtake Indonesia, which 'only' has 1 silver.
Meanwhile, if Carlo wins, the Philippines will get 2 gold. So, whatever the result, it is certain that Indonesia will be evicted from the 46th rank. The status as the best ASEAN country at the 2020 Tokyo Olympics will automatically disappear.
Previously, Chef de Mission (CdM) Indonesia Rosan P. Roeslani had realized that the target of finishing in the top 40 that was proclaimed at the beginning failed to be achieved, but he still hopes to achieve a better position than Rio de Janeiro 2016.
"Better than Rio is to improve the ranking from the previous 46. I want to break into the top 40, but the target is still better than 46. So God willing, it will be better (at the Tokyo Olympics). If we get medals, we have already surpassed it," said Rosan told detikSport, Thursday (5/8/2021).
Tokyo 2020 Olympic Medal Standings until Friday (6/8/2021) at 17.00 WIB
Order-Country-Gold-Silver-Bronze
1 China 34-24-17
2 United States 30-35-27
3 Japan 22-10-15
4 United Kingdom 17-18-19
5 Australia 17-6-20
6 ROC 16-23-22
7 Germany 9-10-16
8 Italy 8-10-18
9 Netherlands 8-10-11
10 France 7-11-9
.
.
.
.
.
46 Indonesia 1-1-3
.
.
49 Filipina 1-1-1
(adp/krs)
.