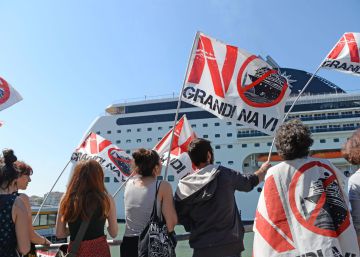 The No Grandes Naves committee has called for a protest in Venice this Saturday to definitively remove the large ships from the San Marcos basin and the Guidecca channel. The protesters are demanding from the Italian government the application of a decree of 2012 that prohibited access to these roads in the city to ships of more than 40,000 tons, as large as Titanic. The transitory provision provided for the prohibition of applying "alternative viable routes of navigation to those prohibited". It also established that, in the meantime, the Maritime Authority, in agreement with the Water Magistrate of Venice and the Port Authority, would have adopted "measures for the protection of the lagoon's environment".
Last Sunday, a floating skyscraper of 66,000 tons, 275 meters long and 54 meters high hit a tourist boat moored in the port of Venice. Almost by miracle, there were no deaths: of the 130 passengers on board the vessel rammed by the uncontrollable force of the cruise, only four had injuries and were not serious.
The news of the accident caused by the ship Opera, owned by the company Msc, which lost control over an engine failure, has reopened the protests against the cruises and has undoubtedly reinforced the power of convocation of the march on Saturday against the big tourist boats, organized by the committee No Great Ships.
According to the authorities of the port of Venice, the strict rules of navigation of the cruises in the lagoon guarantee safety. As a new measure, since last Monday the giants are towed by three ships, instead of two. However, the facts show that accidents can happen and could be even more serious, as Tommaso Cacciari, one of the founders of the committee, explains. "The Opera, which crashed last Sunday against the pier of San Basilio and the river boat, causing damage and injuries, has shown the world that it is possible what we have denounced in all these years and that the competent authorities have denied all this time. "
Despite the decree of 2012, neither the central government nor the local administration have managed to find a solution. "The political inertia is due to the economic interests at stake," declares EL PIS Mario Piana, professor of restoration at the Ca'Foscari University in Venice and director of the conservation of the Basilica of San Marcos. Piana has participated in all the marches organized by the No Grandes Naves committee. "Venetians today are few, just 52,000, but we have to protest and we have everything of the right to defend the city from cruises that pollute the air we breathe and corrode 95% of the stones of Venice," says Piana.