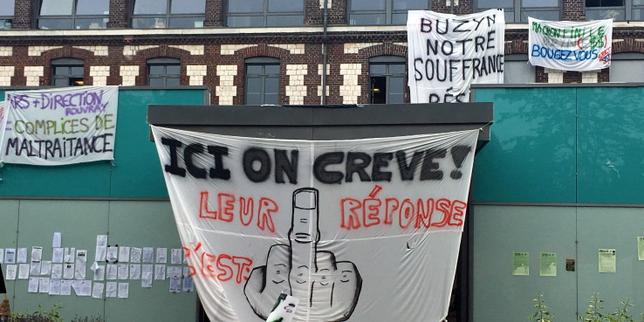 A parliamentary report provides an alarming diagnosis of the situation of psychiatry in France: the care of patients is described as "catastrophic".
Subscribers article
This is a private member's report that would probably have gone well the Minister of Health, Agnès Buzyn. A few days before a new day of action paramedical emergency workers on strike, and only a few months after large-scale social movements in several psychiatric institutions, MPs Caroline Fiat (France insubordinate, LFI, Meurthe-et- Moselle) and Martine Wonner (The Republic on the move, LRM, Bas-Rhin) deliver, Wednesday, September 18, an explosive diagnosis of the situation of psychiatry in France. "This report is above all a political manifesto and a cry of alarm," explain the two elected.
Without being really original, as the reports and alerts on the subject have accumulated in recent years, the findings of the mission of information on "The territorial organization of mental health" are very strong. This organization is described as"Inefficient" and D'"Inefficient", the public psychiatric sector is judged "On the verge of implosion", and the care of patients is described as "Catastrophic". After several weeks of hearings of caregivers and patients across the country, the two women are even wondering if "The psychiatric hospital, as it exists today in France, can (…) to heal the sick ".
With the exception of the April appointment of Professor Frank Bellivier as Ministerial Delegate for Psychiatry, hailed as a "Excellent decision"Caroline Fiat and Martine Wonner say nothing about the measures taken since January 2018 by the Minister of Health, Agnes Buzyn, to try to improve the situation of psychiatry. For the two elected, the problems are "Identified", the solutions are "Known" and "What has been lacking so far is a political will that is strong enough to change things radically".
Article reserved for our subscribers

Read also
Agnès Buzyn: "We must preserve the means of psychiatry"
"Indigestible Millefeuille" of structures and actors
The finding first. Sixty years after its establishment, the "sector", which geographically structures the psychiatric care in France, is judged in "Failure". Over the years, the system has gradually become more complex, gradually becoming a "Indigestible millefeuille" and "Illegible" structures and actors. Result : "A complete misunderstanding of the device on the part of patients and their families", report the deputies.