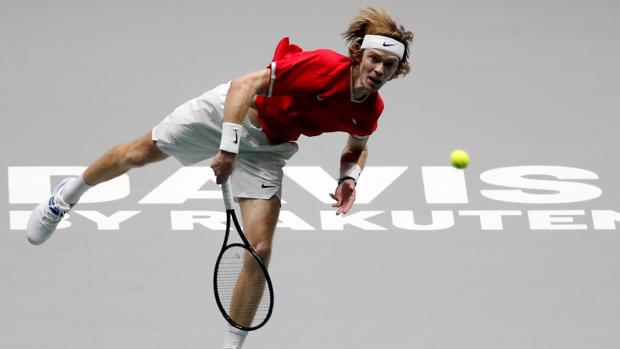 Andrej Rublev frustrated the Davis Cup debut of the young Borna Gojo to achieve the first victory for Russia in the Finals of the competition that are played in the Magic Box, in the duel against Croatia.
Rublev, who along with Karen Khachanov supports Russia's expectations in the competition after Daniil Medvedev's resignation, was far superior to the young Gojo, who won by 6-3 and 6-3 in 69 minutes.
Gojo, located in position 281 of the ATP ranking and whose best result in this 2019 has been the semifinals in a challenger tournament, was first cited with his country's team for the Davis Cup.
Croatia, current champion, faces decimated the defense of the title after the injury of its main asset, Marin Cilic, and the change in the team captaincy. Zeljko Krajan left the team days ago and was replaced by Franko Skugor.
Next, the Croatian Borna Coric and the Russian Karen Khachanov will dispute the second point of the confrontation between Croatia and Russia, of Group B, which completes Spain, which will take action on Tuesday. .