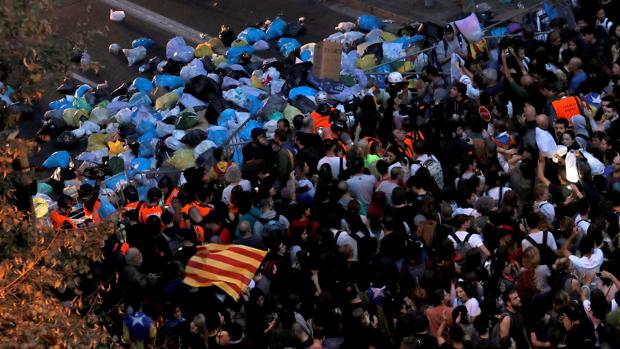 A question has been flying over the protests of Barcelona for days. It is made by neighbors, merchants, tourists, and even the protesters themselves. "How long will this last?" No one has a clear answer. Police officers are prepared for a situation of long-term instability. However, independentist sources fear that overmobilization will end up exhausting a movement that never fails on its key dates (the Diada or the 1-O anniversary), but that has problems corresponding to the appeals in favor of "permanent mobilization" which claim entities such as Òmnium, the ANC and even the president of the Generalitat, Quim Torra.
In addition, the lack of official calls for strikes or work stoppages, many employees and officials have no legal reasons to leave their jobs. Nor do students have in their calendar more strikes than excuse
His absence in the classroom. This fact especially complicates the attendance at the marches of high school and high school students. Not surprisingly, being minors they must have a "legal justification" for not attending class.
In universities, the picture is similar. There are no more strikes called and the recently implemented Bologna Plan reinforces the continuous evaluation and practical classes, which will also hinder the "steers" by demonstration. With this panorama, the independentismo will be forced to readjust its agenda of protests giving greater prominence to the nighttime concentrations – that in the last days have always ended up in altercations – or giving the weight to the boycott acts on the roads, which require less Thick people for your success.
Yesterday, in fact, there were numerous road cuts coinciding with the return operation of the weekend, as well as blockages at the entrances to Barcelona by Diagonal and Meridiana. On the other hand, the protest called in the afternoon before the Government Delegation barely brought together 2,700 people, according to the Urban Guard calculation. . (tagsToTranslate) secessionism (t) dilemma (t) chaos (t) street