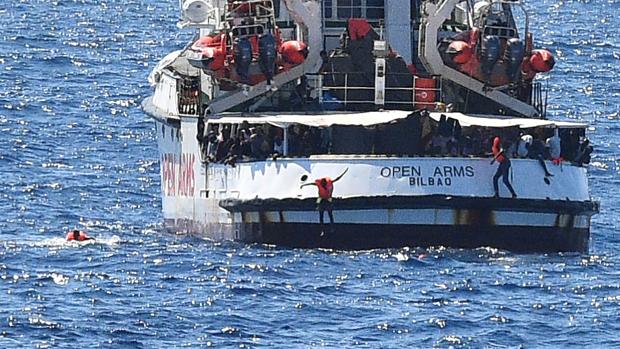 Spain will not participate in the distribution of immigrants rescued in the Mediterranean by humanitarian or military ships that will be the subject of a new agreement at European level, as Italian media reported by mistake these days. Official sources confirmed to ABC that Spain has not acquired any commitment in that regard and will not do so, "which does not mean that our country does not assume its responsibilities in terms of helping immigrants at sea or be supportive in guaranteeing their attention in accordance with the law, since in both cases we are the ones who comply the most ", they underline from the acting government of Pedro Sánchez, also for the purposes of the European authorities.
The same sources explain that if a fortnight of the Open Arms passengers were accepted this summer, it was because the ship "is of Spanish flag", but they remember that a similar offer was not made in the case of the "Ocean Viking", of the Norwegian flag, which at the end of August landed more than 350 people in Malta. Today, seven ships with similar missions are sailing in the Mediterranean, four of them with German flag.
According to data from the Ministry of Interior, so far this year, Spain has registered the irregular entry by sea of ​​16,500 people as of September 15, most of them rescued by means of Maritime Rescue under the Ministry of Development. The figure represents practically half of those helped in 2018 by the same dates, something that is due, among other factors, to the increasing involvement of Morocco in the rescue of boats in its waters before the Strait and the Alboran Sea. .