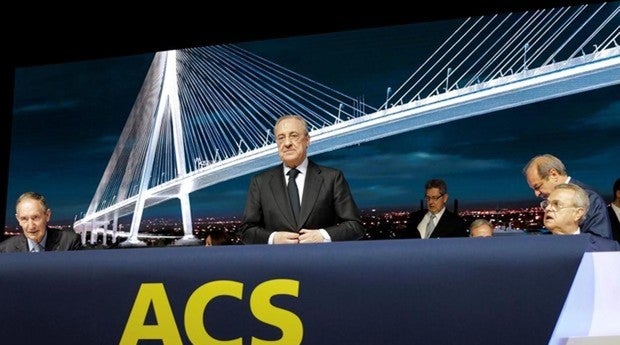 The director of ACS Manuel Delgado has submitted his resignation after publishing information related to the alleged espionage to the president of the construction group, Florentino Pérez, by the ex-commissioner José Villarejo, allegedly commissioned by Iberdrola.
In a brief relevant fact referred to the National Securities Market Commission (CNMV), ACS explains that Delgado, proprietary director representing Alberto Cortina and Alberto Alcocer -los Albertos- "has submitted his resignation" as a member of the board of directors. Delgado, who entered the governing body of ACS in 2004, represents the Alcor Corporation.
According to El Confidencial, some recordings allegedly captured by Villarejo reveal that the ex-commissioner held dozens of private meetings with Delgado during the period in which ACS took steps to increase its presence in the capital of Iberdrola.
The president of ACS, Florentino Pérez, has decided to appear as a private indictment in the procedure opened at the National Court for the alleged hiring of Villarejo for alleged espionage tasks.
Perez, president of Real Madrid, has made this decision after El Confidencial and Moncloa.com published that Iberdrola hired Villarejo to blackmail him and curb the intention of the construction company to enter the power management board.
ACS managed to control up to 20.2% of Iberdrola's capital, which prevented it from entering its board of directors, claiming they were competitors, since the construction company also participated in Unión Fenosa, subsequently acquired by Gas Natural (now Naturgy).
The judge of the National Audience Manuel García Castellón, who investigates the performance of Villarejo, opened at the end of October a secret piece focused on his alleged hiring by Iberdrola.
New research
The opening of the piece came after it was published that Iberdrola had hired Villarejo to spy on a judge, infiltrate platforms contrary to the interests of the power company and investigate a shareholder critical of the company's management.
Iberdrola opened two internal investigations, one in November 2018 and another in July 2019, and concluded that Villarejo had been hired between 2004 and 2017 for 17 services of an ordinary nature and those of the Corporate Security Directorate.
In addition, according to Iberdrola, all internal controls and procedures were correctly applied in the hiring process and in the subsequent payment of these works. The power company announced in mid-October that it had decided to open a "new and exhaustive" internal investigation to try to clarify the veracity of the most recent information on the role of Villarejo.
Iberdrola has finally commissioned PricewaterhouseCoopers (PwC) an internal analysis to clarify how far the company's relationship with the Cenyt company, linked to Villajero, as the newspaper Expansión has advanced and confirmed sources known to Efe research sources. . (tagsToTranslate) resigns (t) advisor