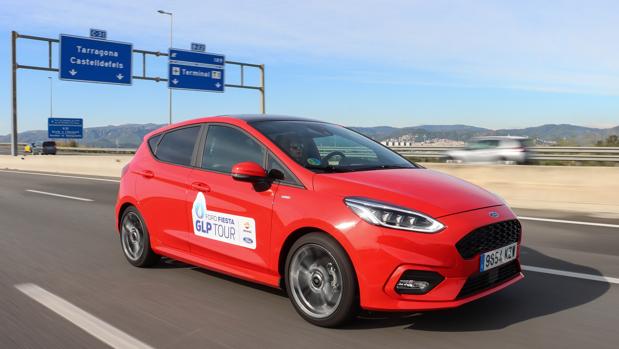 Ford car manufacturer and Repsol energy company present the Ford Fiesta GLP Tour, an initiative that will travel through the main cities of the Iberian Peninsula to promote sustainable mobility with AutoGas or LPG for automotive, an alternative fuel that offers a real and immediate solution to the need to reduce emissions.
Barcelona has been chosen to kick off this 3,316-kilometer adventure, which will take place from November 18 to 27. The Ford Fiesta LPG Tour will make stops in Bilbao, Oviedo, A Coruña, Valladolid, Ciudad Real, Seville and Valencia, to finish in Madrid. Each route will be refilled at one of the more than 400 service stations that Repsol has on the main roads throughout the peninsular territory, more than 60% of the total.
At each end of the stage there will be a mileage, total and refueling time, consumption and efficiency of the vehicle, to demonstrate the advantages of AutoGas as a real and sustainable alternative, available throughout the territory and suitable for any route, beyond the big cities, and with a wide autonomy.
The model chosen for the tour is a Ford Fiesta LPG (recently launched on the market in its Trend and ST Line versions, with 3 and 5 doors), with an EcoBoost 1.1 PFi engine of 75 hp and 5 speeds. It equips two LPG (33.6l) and gasoline (42l) tanks that grant the DGT ECO label for its high efficiency and low emissions. The Ford Fiesta LPG has a range of up to 400 kilometers with the AutoGas tank, which must be added the additional fuel tank, which allows to exceed 1,000 kilometers without refueling.
For Ford Spain, the incorporation of the LPG-powered version of the Ford Fiesta contributes to expanding urban and suburban mobility options to users, by offering them a new cleaner and cheaper alternative that, in addition, is not affected by the restrictions on Traffic in big cities thanks to the ECO tag.
For Estíbaliz Pombo, head of Repsol AutoGas: "This joint initiative with Ford will allow us to demonstrate that AutoGas is a real alternative for today's mobility. In addition to being a solution that offers great autonomy, there is a wide network of service stations with AutoGas to refuel. With this network you can cross the Peninsula from end to end only with this fuel and meet the needs of a car park with AutoGas twice as large as it exists today ».
Sustainable and economic alternative booming
AutoGas or LPG for automotive is the most widely used alternative fuel in the world, with benefits similar to those of traditional fuels, but with very low emissions (reduces NOx emissions by 68% and up to 100% particles with respect to conventional fuels, it contributes to minimizing the greenhouse effect by reducing CO2 emissions by 14% and noise levels by 50%).
Around 26 million vehicles with AutoGas or LPG for cars circulate around the world today. Of these, 15 million are in Europe and 107,038 in the Spanish market. The growth of registrations in the country during the last year has been exponential, in line with other European markets: 360% in 2018 compared to 2017, with a total of 19,664 AutoGas vehicles, compared to 4,276 in the previous year. And the figures for the first ten months of 2019 (23,133) already exceed the total for the entire previous year.
The greater demand for AutoGas or LPG vehicles is due to an increase in environmental awareness, the autonomy of the vehicles and their price, which places them among the most affordable ECO alternatives. In addition, the opening of AutoGas service stations is developed throughout the Peninsula and the Balearic Islands. Suppliers have already been installed in 670 service stations throughout the territory and Repsol leads the market with more than 400 offering this alternative fuel. . (tagsToTranslate) starts (t) ford (t) party (t) tour (t) 3316