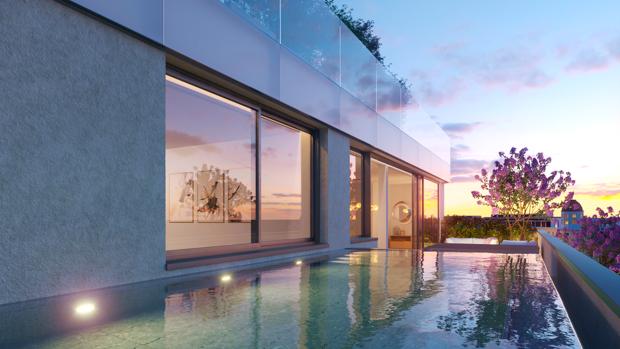 Homes from 300 and 500 square meters, in the most central areas and "prime" of the megaurbes or on the beachfront, with indoor and outdoor pool, spa, gym, domestic service, with the best qualities, with the latest in home automation and new technologies and sustainable materials … The comforts of luxury homes are stratospheric for many mortals. And also its price: from one million euros. Even, there are exclusive attics that can reach between seven and twelve million and are not offered in any storefront, offline or online. Although for the great majority these properties are prohibitive, the truth is that this luxury market has its public. And in Spain he enjoys very good health. In fact, it is more than attractive to the foreign buyer. Proof of this is the arrival of the investor. The best luxury apartments for sale in the US center of Madrid Warren Buffett in the Spanish luxury market through its real estate division, Berkshire Hathaway HomeServices.
Nevertheless, they are not the only ones. While it is true that the international buyer is an engine for this sector, also the Spanish buy luxury homes. And for both, Madrid is the preferred city. Not in vain, the capital has been registering an increase of prices of 15% interannual in these properties, according to data of the real estate agency Barnes. "This year prices are more stable and we will finish 2019 in the same way, although it also depends on the political situation," says Anna Molgó, Barnes representative. This is the general trend in the luxury real estate market, both in the interior and on the coast: "We do not expect large growths. We are in a stable moment of maturation ", considers Leticia Pérez, Real Estate Director of Dazia Capital.
Chamberí and Salamanca are the most expensive districts of Madrid: the square meter of these houses exceeds 7,000 euros on average. Neighborhoods such as Almagro, Trafalgar, Jerónimos, Castellana and Goya are even between 8,000 and 10,000 euros. "In these areas, 70% of the demand for this type of housing is a national buyer and 30% is foreign," says Molgó.
The prices of luxury housing in Madrid have risen 15% year-on-year, according to the agency Barnes
Barcelona follows another rhythm, according to Barnes: the prices of luxury properties will fall this year, from 6,800 euros per square meter to 6,100 euros, after five years of consecutive gradual rise. The institutional crisis in Catalonia would be at the origin of these declines, which would also explain why they buy less foreigners than before. 20% of the transactions of luxury homes in Barcelona correspond to international buyers, before, it was 50%. But it also influences that these have been seduced by other destinations such as the Balearics, Portugal and Greece. In Barcelona, ​​the most expensive areas are Paseo de Gracia, Turó Park, the upper part of Pedralbes, Sarrià and l'Exampple.
What Spain offers
But "as much as prices have risen, Madrid and Barcelona are not as expensive as London, Paris and other Italian cities," says Constanza Maya, director of operations and expansion of Engel & Völkers for Spain, Portugal and Andorra. That is one of the biggest advantages that attracts foreign investment. As well as many other reasons: the benign climate, a quality and cheaper gastronomy, cultural development, top-level infrastructures (with very close airports in connection with all of Europe) … «The legal security that our property registries and notaries, the profitability they obtain when investing in real estate … Many foreigners want to live here all year. Thanks to new technologies they can work from here, and they have less energy and food expenses, better time, they live better in general. There are times when they rent houses in summer and get a return. Other times they are companies that invest in brick because it gives more profitability than any banking product, "adds Maya.
Each nationality seems to be clear about what he likes about luxury in Spain. The cultural closeness and the language have been decisive for many families, companies and investment funds in Latin America have fixed in luxury properties in Madrid. "Mexicans, Venezuelans and Colombians are in the lead. They come from the economic and political context existing in their countries of origin. They want to bet on safe and profitable investments in the Spanish real estate sector as a safe haven, "explains Molgó. «Recoletos love them -continue-, from there they walk everywhere, they have restaurants and all the leisure offer, they are their friends and acquaintances. They are comfortable. "
One hundred thousand euros per square meter is what can reach a luxury home in neighborhoods like Almagro, Jerónimos and Goya
Chamberí is the favorite district of the national buyers, neighborhoods like Almagro like for its proximity to the Paseo de la Castellana and its historical attraction. "The historic buildings, with an old facade, high ceilings and the entrance of stables are in high demand", adds Anna Molgó. Many are rehabilitations because the product of new construction is scarce. "There are provincial families who travel a lot to the capital for business reasons and take advantage of luxury housing as an investment and to reside during their stay. Then the children come to study. There are also families who lived in the outskirts, in places like La Moraleja, whose children have been emancipated, have a huge house and prefer to return to the center of the city, "says Luis Valdés, director of Residential Colliers International Spain.
The predilection of French, British, Germans, Belgians and Italians is for Barcelona. They buy to invest, but also to enjoy the city. Outside of it, the local buyer is leaning towards the luxury segment as a second residence in coastal areas.
The Central Europeans also go to the coast, although "the star has been the Scandinavian public", says Leticia Pérez, of Dazia Capital. "The Nordics send the family to live in Fuengirola, and the head of the family only spends the weekend, the rest of the time he is working in his country of origin," adds Luis Valdés. Sometimes they use the luxury home as a stable residence and others for vacations, then they rent the rest of the year. They do it on the Costa Brava, the Costa del Sol, the Balearic Islands and even the Canary Islands.
Madrid is attractive for families and Latin American companies, especially for Mexicans and Venezuelans seeking profitable and secure investments
Indoors or on the beach all these homes have a common denominator: location is the priority. "In the areas of the sea, urbanizations on the beachfront and new construction triumph," says Maya. They are large homes with gardens, garages, large spaces, huge penthouses with sea views … In the cities, they are the historic buildings.
Luxury is also security: a luxury home requires a concierge 24 hours a day. They have many more features, not just a spa or an indoor or outdoor pool or parking. They have the latest in home automation and sustainable solutions. "For many foreigners it is important to have a domestic service and to solve any need: from managing a hotel reservation, to requesting a taxi … The projects already include meeting and visiting rooms … And the architects They work on establishing common areas that generate meetings between the owners. From an App to run four neighbors to a stretching area in the gym that promotes relationships, "he concludes.
A crisis «light»
Luxury housing also suffered in the hard years of crisis, but "these prime locations suffered much less. Although there was an adjustment in prices and there was no new work, there were second-hand transactions, "recalls Leticia Pérez, of Dazia Capital. The horrible years of the real estate sector went a bit above this type of property. As Luis Valdés says, «the luxury buyer will always exist, but you have to find the product he wants». And that's what happened: "The crisis -continued- helped to bring to the market a different product and uncovered a demand that did not find what it wanted," Luis Valdés explains. Until they began to offer floors of 500 and 600 square meters in the prime areas of Madrid, high quality and with very attractive prices. A demand that grew when banks intervened and output their stock in good locations. . (tagsToTranslate) market (t) housing (t) luxury