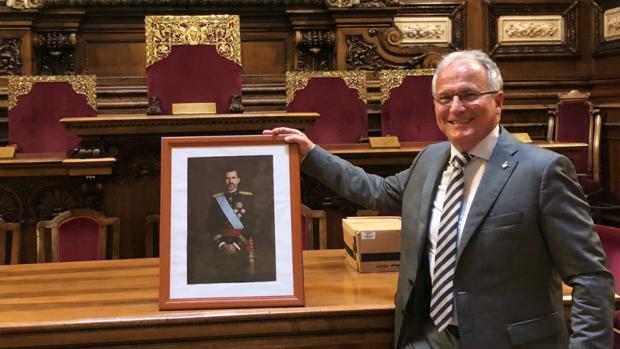 The president of the Municipal Group of the PP in Barcelona, ​​Josep Bou, has committed to bring the portrait of King Don Felipe to each municipal plenary that is held in the City Council, where Mayor Ada Colau has removed him from the hall of plenums. This was said on Thursday in a meeting with the new mayor Madrid, José Luis Martínez-Almeida, after feeling "envy" for the image of the Monarch present in the City of Madrid.
First step given: Your Majesty is already in the office of the PP at City Hall. Now, for the Plenary Hall! #BCNLIBRE #Rey #FelipeVI #BCN pic.twitter.com/IohdcYKVuv- Josep Bou Vila 🇪🇸 (@josebouvila)
June 19, 2019The popular leader regretted that Mayor Ada Colau removed the bust of King Emeritus Don Juan Carlos from the plenary hall, and that, as it should be, he has not placed any image of the current King. "I will not abandon it, because the King of Spain is also the King of the Catalans," Bou said. The popular Catalan politician already asked that the image of the King preside over the plenary hall after the municipal elections.
"We have no flags or head of state, nothing, we should have it because it would be normalizing the city of Barcelona, ​​which is a great Catalan and Spanish city," the councilor added. After the meeting, the PP councilor defended that Madrid and Barcelona "can not be on their backs", but "go hand in hand." This relationship, according to Bou, must be based on dialogue to guarantee "political stability and legal security."
In addition, Bou has stressed that "if any enemy has Barcelona, ​​never can be Madrid," adding that "the enemy of Barcelona and Catalonia is nationalism." For the Catalan leader, this "ideology" is "very damaging to Catalonia, at the level of business, investment, legal security." The leader of the PP in Barcelona has criticized that in the Town Hall of the Ciudad Condal debate on the yellow ribbon on the facade of the consistory or on whether the author of the attack on the Rambla had a relationship with the CNI, instead of other issues such as insecurity or housing. (tagsToTranslate) bourey