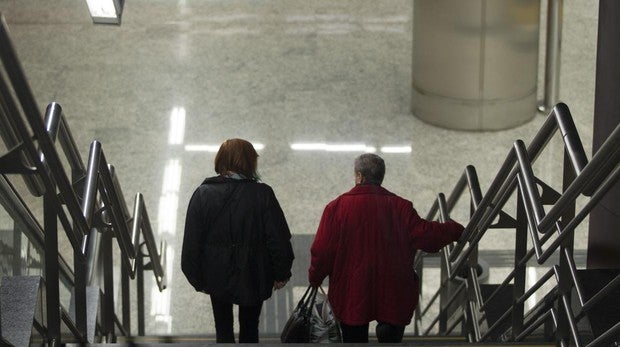 Free public transport for people over 65 in the region will be progressive and in sections, with January next year as a starting point and 2023 on the horizon. The president of the Community of Madrid, Isabel Díaz Ayuso, announced Monday that the measure will start with a 25 percent reduction in the cost of the subscription, which will mean going from 12.30 to 9.30 euros in the monthly pass and 123 to 93 euros in the annual. "It is justice with our elderly people, to whom we owe both as individuals and as a society," said Díaz Ayuso.
The measure, including among the 155 measures of the Government pact between PP and Citizens, was one of the priorities of the regional president, who already promised it in August. However, its development was still pending some fringes, such as the tax tranches or the calendar.
With an initial budget of 18 million euros, Díaz Ayuso explained that it is based on a double argument for the more than one million people over 65 in the Community. "It intends two things, to alleviate the economic burden that may entail and facilitate their mobility to the maximum," added the Chief Executive in the presentation of five new elevators at the Metro station of Elliptical Square, included in the Regional Accessibility Plan.
As reported by ABC, the Government and the Ministry of Transportation, Mobility and Infrastructure propose a progressive system in three years, with a phased down payment. Thus, the cost of transport will be reduced by 25 percent each year, until in 2023 it is completely free. The initiative, as Díaz Ayuso confirmed, will be approved today by the Regional Transportation Consortium.
24 hour metro
Once the measure is underway, one of the bicolor Executive's star announcements, the next step will be to address the opening of the subway 24 hours on weekends, whose details are still under study. Both actions are aimed, regional sources point, to improve a service that has broken record travelers. According to Transport figures, the suburban centenary month ended with 66.1 million users, exceeding the limit to date, 2008 (64.2). . (tagsToTranslate) subscription (t) transport (t) keys