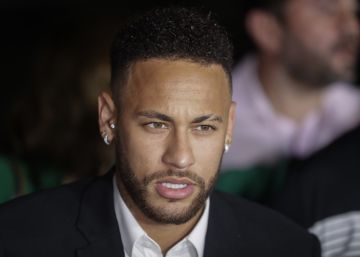 The pulse of Neymar-Paris Saint-Germain has begun. The French team started training on Monday without the presence of the Brazilian striker, also absent due to injury in the Copa América. Despite being quoted, the player did not show up for the session and the club issued a statement in which he condemns his attitude and announces that he will take the measures "that are convenient", without specifying which, knowing in any case of that the player wants to leave Paris.
While events were unfolding on the training ground, Leonardo, sports director of PSG, told the newspaper Le Parisien that some type of contacts have already taken place, "although very superficial", with Barcelona. "We have not received any offers, but we have not seen that Barcelona was really in the position of buyer," he says. However, he points out: "Neymar can leave the PSG if there is an offer that suits us all. But today we do not know if someone wants to buy it or at what price. All this is not done in a day, that's for sure. "
The Brazilian player has declared himself in rebellion after the president of Barcelona, ​​Josep Maria Bartomeu, announced last Friday: "We know that Neymar wants to leave PSG, but we also know that PSG does not want him to leave; therefore, there is no case. " Vice President Jordi Cardoner had previously announced that Neymar had offered to Barcelona. Leonardo, referring to the conversations of the Parisian club with Neymar, says: "It is clear to everyone. In football, you say one thing and tomorrow another. It's amazing, but it's like that. I can not tell all the details of the conversations with the player. We have also talked with the environment. Everyone's position is clear, but there is only one thing that is clear today: he has a contract with us for three years and since we have not received any offers, we can not discuss anything. "
Asked about the strategy that Barcelona may be carrying out, PSG's sports chief adds: "They said they wanted to buy but that we are not a selling club. It was the president who said it, but we have not seen that Barcelona is really in a position to buy. "
The return of Neymar, 27, to the Camp Nou is in any case much more complicated than that of Antoine Griezmann. The French striker did not go to Athletic's appointment on Sunday. It happens that in your case the transfer to Barça is assessed at 120 million, which is the current amount of the termination clause of your contract, the formula that will be applied in case both clubs do not reach an agreement, a difficult end after rejection statement issued by Atlético against Griezmann and Barça.
Barcelona tries to accelerate the incorporation of Griezmann while cooling that of Neymar. Do not forget that Bartomeu himself also reiterated on Friday that "Dembélé is better than Neymar". The French striker started the preseason yesterday, a week before his teammates from Barça.
The serial of Neymar threatens to be as long as the one he starred in when he left the Camp Nou in the summer of 2017 to sign for PSG. The father of the player responded to the PSG threat with a surprising statement: "I do not understand the note because the club was informed that Neymar Junior would not go to train yesterday but will do so from July 15".
Principle of agreement
The Neymar family tense the relationship with the club presided by Nasser Al-Khelaïfi, who lately has already complained about the player's little commitment: "If someone is not happy, the doors are open." And later he added: "I'm sure 200% that Mbappé will remain at PSG next season. Nobody forced Neymar to sign here. "
Neymar already informed his compatriot Leonardo, PSG's new sports director, that he did not want to return to Paris and that he preferred to play at Barça than at Madrid because of his complicity with Messi and Luis Suarez. The Brazilian expects Barcelona to pressure Al-Khelaïfi after some information has assured that he has even reached an agreement with Bartomeu. Neymar would have accepted to collect the same card as when he left the Camp Nou and also would have committed to withdraw the lawsuit filed against the Catalan entity to collect a renewal premium of 26 million. The contacts between both parties would have the intermediation of Pini Zahavi.
Neymar's return trip is much more complex than the one-way trip because then there was a clause of cancellation of 222 million euros that is not given now.
You can follow EL PAÍS Sports on Facebook, Twitter or subscribe here to the Newsletter.