AutonetMagz.com – Are you the type of consumer who likes to make modifications or upgrade on your car audio system? Did you know that changing a number of audio settings in a car can void the car warranty? Yep, this is a condition that is sometimes not considered by consumers or car users. Where they sometimes make modifications to the audio and unknowingly change some parts that are actually advised not to change. As a result, if there is an unwanted event, such as an electrical short, the warranty cannot be claimed to the manufacturer. Therefore, Mitsubishi also accommodates the needs of their consumers with special editions.
Present for Consumer Needs
As we all know, Mitsubishi Motors Krama Yudha Sales Indonesia or MMKSI will soon introduce a refreshed version of their flagship LMPV, the Mitsubishi Xpander. Well, the issue of the Mitsubishi Xpander Facelift has been circulating for some time, including when Mitsubishi introduced the Mitsubishi Xpander Rockford Fosgate Black Edition. At that time, some thought that the RF Black Edition variant was only given to spend the stock of the unit before the version facelift appear. In fact, there is a special reason behind the appearance of the Mitsubishi Xpander Rockford Fosgate Black Edition. Yep, the reason we mentioned above is to accommodate the needs of Xpander consumers who want to have a unit with better audio quality. And of course, you can get a better audio quality unit without the need to void the warranty due to audio system modifications. In this variant, Mitsubishi adds digital channels, amplifiers, and subwoofers to boost audio quality on the Mitsubishi Xpander.
Rifat Sungkar, Mitsubishi Indonesia Brand Ambassador stated, "The black edition has indeed been launched and I really enjoy it and this is given another opportunity with very precise timing so that customers can feel the luxury and advantages of the right moment. Consumers get two satisfactions from one product, the satisfaction of modifications that do not have their own risk due to factory standards and secondly, they don't have to think about what objects should be installed in their cars. This is the right solution for Mitsubishi consumers. Indeed, when viewed from the product, colleagues here I guarantee the product is very different. It's a very good audio sytstem, I drive every day. The current special edition even has new features that add to the comfort and safety of driving". In addition to changing the audio system, Mitsubishi also provides cosmetic refreshments in the form of black color applications in some parts, in accordance with the name 'Black Edition'. The part that is invested in black is the rims, grille, roof rail, and handle door.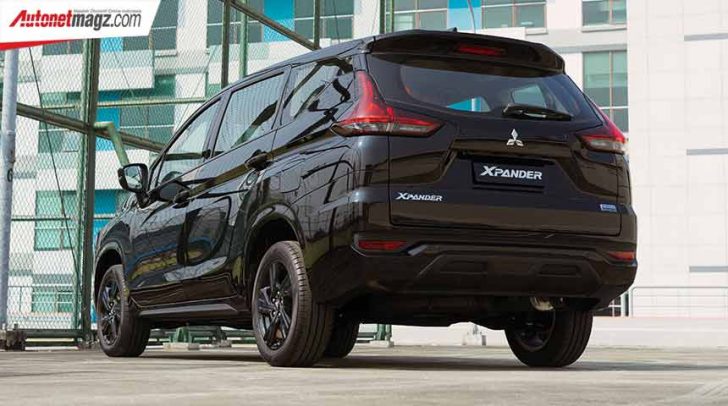 Brush before it runs out
So, what kind of consumer is Mitsubishi aiming for for the Mitsubishi Xpander Rockford Fosgate Black Edition? What is clear is that they are audio connoisseurs who know how to do it. In other words, if you are not satisfied with the default audio system, but enough thin to find out what components need to be changed, plus Don't risk voiding the warranty, then you are the type of consumer for this car. Currently, the Mitsubishi Xpander Rockford Fosgate Black Edition is still being sold by Mitsubishi, and this seems to be your last moment to get this unit before the Mitsubishi Xpander gets a refresh. Will the Mitsubishi Xpander Facelift later get the RF Black Edition variant as well? Of course we can't guess. Maybe yes, maybe not. Depends on Mitsubishi's policy. Although later there will be a variant of the RF Black Edition, of course it will not be introduced in the near future. So, if you really think the audio system is quite important, it seems that the Mitsubishi Xpander Rockford Fosgate Black Edition option is still interesting to look at.
So, what do you think?
Read Prev:All New MG 5 Sedan Road Tested, Which Class Are You In?
Read Next:Yamaha Jatim Shares Tips for Efficient Driving Using a Scooter, It's Easy!
.