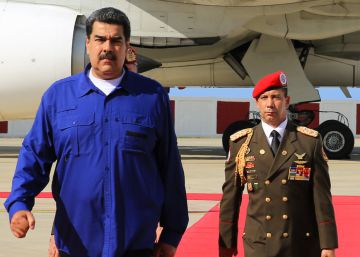 The United Nations opened an investigation to Venezuela on Friday for the abuses of the Nicolás Maduro regime. The Human Rights Council approved the creation of an "independent international fact-finding mission" whose purpose is to conduct a thorough inquiry into "extrajudicial executions, enforced disappearances, arbitrary detentions and torture and other cruel, inhuman treatment or degraders committed since 2014 ".
This commission must work for a year "with a view to ensuring full accountability of the perpetrators and justice for the victims." The resolution, the first of these characteristics in Latin America, came forward with 19 votes in favor, including that of Spain, and 21 abstentions. Seven countries, led by China and Cuba, opposed the initiative. The measure was adopted in Geneva following a proposal made by the Lima Group, made up of a dozen American governments.
The UN Human Rights Council also urges "the Venezuelan authorities to cooperate fully with the mission of determining the facts, provide immediate, complete and unimpeded access to the entire territory of the country, as well as to the victims and places of detention and provide all the information necessary for the performance of their mandate. " In short, it is a pronouncement that seeks to pave the way for independent investigations of what is happening in Venezuela. The country lacerated by a deep social and political crisis, is submerged in a impasse institutional since the head of Parliament, Juan Guaidó, launched last January a challenge to Maduro trying to force his resignation, the opening of a transition stage and the call for free elections.
The United Nations demands that the Government collaborate with the organization's human rights system and cooperate with the high commissioner, Michelle Bachelet. The report of his office, published in July after his visit to Caracas, denounced serious violations of economic, civil and political rights and black-and-white demolishing figures of deaths attributed to the abuses of the security forces: almost 5,300 only the year alone past. The regime refuted the dossier, but last Tuesday he agreed to sign a memorandum of understanding with the high commissioner who opens the door to the opening of a delegation in Caracas.
This new resolution, which increases international pressure on Chavism, was received by the opposition as a victory. However, it remains to be seen, as Maduro can be expected to resist. His Government highlighted rather another pronouncement of the Human Rights Council, which on Thursday expressed concern about the sanctions imposed by the main international bodies, with Washington at the helm. These "unilateral extraterritorial coercive measures have further aggravated the effects of the economic crisis and, consequently, the humanitarian situation of the Venezuelan people," he maintained. The UN defends a "peaceful, democratic and constitutional" exit to the crisis and rejects "military interference, security forces or foreign intelligence services."
.