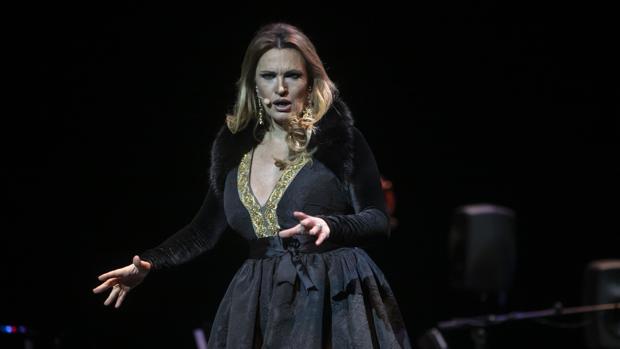 "It's a rogue." This is how blunt Ainhoa ​​Arteta was yesterday when asked about the allegations of sexual harassment made against Placido Domingo. The San Sebastian soprano, who yesterday sang "Madama Butterfly" in San Sebastian, and preferred to concentrate on the function and not enter into the matter, took her first steps in the lyric of the hand of the Madrid singer; In 1993 she was one of the winners of the first edition of Operalia, the contest sponsored and organized by Domingo. Another of the voices that now had the Madrid baritone very close in its beginnings is the soprano Ángeles Blancas; her first work together was the recording of the opera "The Wildcat" and, later, Domingo invited her to one of the galas de Reyes that she starred in Madrid. "What I can say is that Placido has always been very polite and respectful to me," he told ABC yesterday; I had no problem with him or anyone else in that regard. My career has been developed by other courses; I have never asked for anything or ever knocked on his door.
Looks and insinuations
Madrid's soprano is surprised that the alleged harassment has come to light thirty years after it occurred. «That in the world of opera there are looks and insinuations? Of course, power has always been exercised in many different ways, but not only in the world of opera. And throughout my career I have heard many stories, also from Placido, although nobody has told me that I have experienced a similar situation. And how many times there is nothing true about what is told, and it is only intended to attract attention ». Situations such as those now accused of Domingo, the soprano insists, have always existed on the part of singers, directors, agents, journalists … «Now there is a gay power … What an artist has to do is say no , do not lower yourself, stay and, if things get worse, then you get worse, "concludes Ángeles Blancas. Another woman who has come out in defense of Domingo is Pilar Jurado, soprano, composer and president of the SGAE. In statements to Ep, he has defined the singer as "a perfect gentleman. It's complicated because I don't know what other people have lived and I can't tell if it's true or false, because I wasn't there. But I can say that with me the relationship with him has been of a perfect gentleman and of absolute affection ».
The effects of the scandal have not been long in coming. The Philadelphia Orchestra has canceled Plácido Domingo's participation in its season opening concert on September 18. The Opera of San Francisco suppressed another that the Spanish tenor had planned for October 6. The Los Angeles Opera, of which he has been CEO since 2003, will open an investigation with "external advice." In contrast, the president of the Salzburg Festival, Helga Rabl-Stadler, confirmed that the tenor will perform there, as planned, on August 25 and 31. «I have known Plácido Domingo for more than 25 years. From the beginning I have been impressed by their respectful ways with all Festival workers, "he said. The Palau de les Arts in Valencia also maintains Domingo's participation in «Nabucco» in December, and will wait for the resolution of the case to «act accordingly». .