The singer of Radiohead performed solo on Sunday, July 7 at the Philharmonie de Paris.
Subscribers article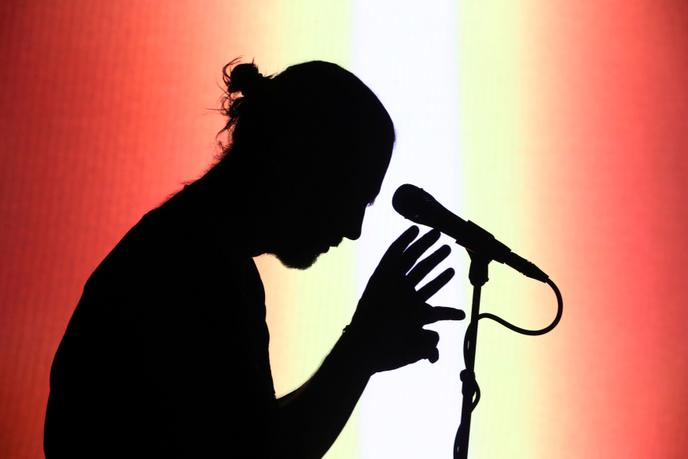 During its summer tours, the Radiohead group has often favored the decorum of arenas and ancient theaters (Nîmes, Vaison-la-Romaine, Fourvière …). In solo, his singer, Thom Yorke, seeks an intimacy more adapted to the cerebral dimension of his experiments. Preferring the comfort of the rooms to the rustic meadows, the festival Days Off, organized until July 13 at the Philharmonie de Paris, offered the British an ideal setting for the two French stages of his tour Tomorrow's Modern Boxes. Especially since, like the German legends Kraftwerk, whose 3D show is scheduled for July 11, 12 and 13, the musical and visual performances of Yorke echo perfectly the exhibition "Electro", which stands, until August 11, in the building designed by Jean Nouvel.
Article reserved for our subscribers

Read also
Music: H-Burns, French folk
A rock icon of the 1990s, the 50-year-old first flirted with electronics (the album Kid A, in 2001), before the machines become the main tools of a solitary quest, developed alongside the productions of Radiohead. Available on streaming since June 27 and released on CD on July 19, his third solo album, Anima, extends the path traced since The Eraser (2006). That of an anxiety-provoking fantasy, as much a lover of rhythmic and audacious audacities as angry with the craft of songwriting and refrains.
In a mood more contemplative than dancing, Anima (baptized from the Italian word meaning the soul, but also with reference to the expression of the femininity buried in the man, as formulated by the psychiatrist Gustav Jung) yet was spectacularly "animated" when three of its pieces served as a support for a short film of the same name, directed by American filmmaker Paul Thomas Anderson (currently broadcast on Netflix). Choreographed by the Belgian Damien Jalet, we see, for 15 minutes, a Thom Yorke with the false-tunes of Buster Keaton defying the laws of gravity, in a ballet with a dystopian atmosphere.
Inland trips
Sunday, July 7, in front of the 3500 spectators of the Philharmonie, the solo repertoire of the singer does not reconcile miraculously with the song format. The concert nonetheless takes on a physical power transcending the cerebral dimension of domestic journeys filled with socio-political and environmental anxieties. A sensual impact enhanced by the acceleration of tempos, a bass boom worthy of a sound system and an impressive spatialization of sounds accentuating the contrasts between amniotic reverie and industrial grinding, sizzling robotic insects and carnal drive.