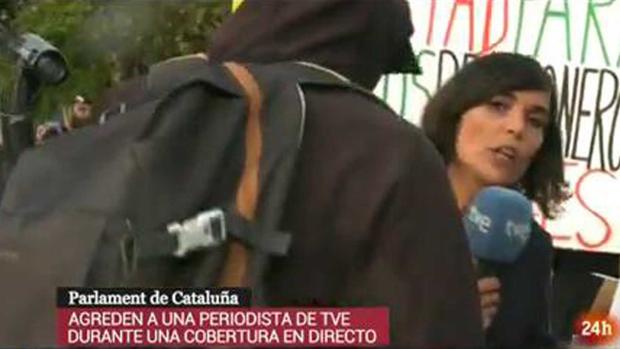 Ángela García Romero, reporter of RTVE, has been attacked on the afternoon of this Wednesday while trying to inform about Diada. This has been confirmed by the public television itself, which has reported what happened on the 24 Hour Channel.
A TVE team has been attacked by a group of protesters concentrated before the Parliament. The @CdItve has shown its support for RTVE professionals in Catalonia and those of other media and has defended the right to freely report pic.twitter.com/BFCR90cihS— TVE news (@telediario_tve)
September 11, 2019 "Our colleague Ángela García Romero has suffered an aggression during the informative coverage outside the Parlament," said presenter Ana Belén Roy during the news on Wednesday. The journalist was there to cover the protest of the so-called CDR against the seat of the Parliament of Catalonia.
In the news, Roy has offered more details about what happened. «While I was making a live connection to report the mobilizations outside the Catalan chamber, they threw a stone, water at the camera and also threw the tripod on the ground. All this, among insults, "said the presenter.
In the video of the aforementioned aggression, captured by the RTVE cameras, the reporter is seen trying to do her job, while being attacked and unbelieved by several people. Protesters who even call the young woman "manipulative."
The attack has also been condemned by the chain itself, which has shared what happened on its social networks. "Protesters concentrated in front of the Parliament have assaulted our partner Ángela García Romero," published the official Twitter account of the 24 Hour Channel, which shared the video of what happened. . (tagsToTranslate) aggression