"It's a lot of fun, this morning I had thoughts that I would like to congratulate Lithuania on my work. I am glad that on this day I managed to achieve the result of my career, "said V. Strolia, who is also a volunteer in the Lithuanian Armed Forces.
The fifth biathlete, who slipped into the 10 km sprint track, even led for a while. He was later overtaken by Frenchman Quentin Fillon Maillet, who started in number 17, and became the winner of the race, Belarusian Anton Smolski, and his team dropped out of the trio of winners half an hour after the finish, when the German Benedict Dollis took second place.
"I am really happy with everything today. Emotions have already subsided, in sports emotions last only as long as the award is in progress, and after that you think about what goes on. I'm glad it's finally in the Top-10 – I've been dreaming about it all season and I really knew I could do it – right after the flower ceremony where the six strongest biathletes are awarded, Strolia said. – There is really no resentment about the blurry podium, there has to be step by step. My goal was the Top 10, and now it will be possible to dream of higher results. "
Q.Fillon Maillet, who shot without mistakes, surpassed the second place B.Doll in 7.2 seconds. A. Smolskis (shooting 0 + 1), the only one of the three winners to turn the penalty circle, was 32.1 seconds behind, while V. Strolia was 33.6 seconds behind. However, the Lithuanian who had reached the finish line first of them did not attack to enjoy the high position he had won too soon.
"All the time after the competition, I look at how it is arranged. I didn't expect anything like that because all the participants were behind their backs. When the competition was halfway through, I realized that it should be good – it was, "said V. Strolia.
In terms of speed on the track, the strongest representative of Lithuanian winter sports was 15th, shooting speed – 28th. With an impressive speed, V. Strolia shot while standing – he shot five targets in just 23.2 seconds.
"How does it feel to attend a flower ceremony? Needless to say, it's good. I finally felt it! Most importantly, I was able to delight our federation, which works and strives for results, coaches, service staff, president (federations – aut. Past.). Of course, those who support me the most – family, relatives. I hope that everyone was happy and most satisfied with it, "smiled V. Strolia.
Vytautas Strolia / Photo: Christian Manzoni / IBU
The Lithuanian place went to the fourth place for 7 thousand. EUR prize and 43 qualifying World Cup points. V.Strolia became the first biathlete in independent Lithuania to succeed in breaking into the top six: until then, Diana Rasimovičiūtė had a record eighth position. It is true that Algimantas Šalna won the planetary stage in the Soviet era.
Three more Lithuanian biathletes took part in the sprint competition in Rupolding: Karolis Dombrovskis took 69th place (0 + 2), Tomas Kaukėnas – 100th (1 + 3), and Linas Banys – 107th (1 + 1).
The 60 best performing biathletes won the right to take part in the persecution competition on Sunday: V.Strolia will start there in the fourth.
Q.Fillon Maillet leads in the overall standings of the Planet Cup (521 points), and V.Strolia ranks 29th (161 points).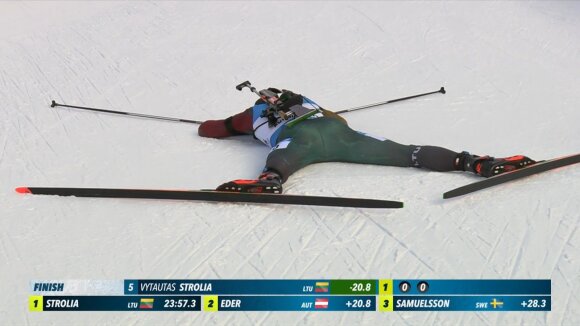 Vytautas Strolia
© Stopkadras
It is strictly forbidden to use the information published by DELFI on other websites, in the media or elsewhere, or to distribute our material in any form without consent, and if consent has been obtained, DELFI must be cited as the source.